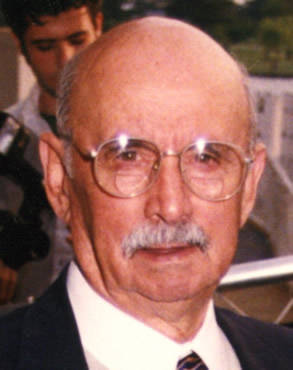 Manuel A. Lobao

LOWELL Manuel A. Lobao, 90, of Lowell, died Tuesday, September 22, 2009, at Saints Medical Center. He was the widower of the late Felismina (Tomasia) Lobao who died in 2006.
Born November 9, 1918, in Graciosa, Azores, Portugal, he was a son of the late Antonio A. and the late Conceicao A. (DaCunha) Lobao, and was educated in that area. While living in Graciosa, he worked making furniture. He came to the United States August 8, 1967 with his family, settling in the Back Central Street neighborhood.

Manuel was a communicant of St. Anthony's Church and was a member of the Portuguese American Civic League, the Portuguese American Club, the Holy Ghost Society, and the Portuguese Senior Center. Spending time with his family was his greatest joy, he especially enjoyed going on vacations with family, and spending time at his house in Graciosa. He could also be seen taking daily walks around the Back Central Street Neighborhood.

Mr. Lobao worked for United Heel for many years, and more recently worked for Pandel Industries as a machine operator.

He is survived by his daughters, Elsa Oliveira and her husband, George, of Lowell, and Yvonne Conde and her husband, Helio, of Tewksbury; his grandchildren, David Oliveira and his wife, Gretchen Hess, of Alexandria, VA, Chris Conde and his wife, Becky, of Chelmsford, Kitzie Zeidan and her husband, Tom, of Lawrence, and Jason Conde and his wife, Michele, of Haverhill; great grandchildren, Fia H. Oliveira of Alexandria, VA, Jayden Conde of Haverhill, and Carina Conde of Chelmsford; his sisters, Alice Felix and her husband, Manuel, of Lowell, Ilda Sousa of Dracut, and Noemia Santos and her husband, Carlos, of Lowell; his brother in law, Arlindo Melo of Graciosa; and many nieces, nephews, cousins and friends.

He was also a brother of the late Deidamia Sousa, the late Maria Augusta Dias, the late Herminia Lima, the late Libia Melo, and the late Lurdes Leandro, and brother in law of the late Aristides Sousa, the late Ivo Lima, the late Casemiro Sousa, the late Frank Leandro, the late Jose Dias, the late Manuel Joaquim, and the late Estefania Espinola.

YOU ARE INVITED TO HIS CALLING HOURS 4 UNTIL 8 P.M. TODAY, WEDNESDAY, SEPTEMBER 23. ON THURSDAY, HIS FUNERAL WILL BEGIN AT 8 A.M. AT THE MCDONOUGH FUNERAL HOME, 14 HIGHLAND STREET, LOWELL (978 OR 800) 458-6816. HIS FUNERAL MASS WILL BE OFFERED AT ST. ANTHONY'S CHURCH AT 9 A.M.. BURIAL IN ST. MARY CEMETERY. IN LIEU OF FLOWERS, MEMORIALS IN HIS NAME TO DANA FARBER JIMMY FUND, ONE HARVARD ST., BROOKLINE MA 02146. E-CONDOLENCE SITE WWW.MCDONOUGHFUNERALHOME.COM