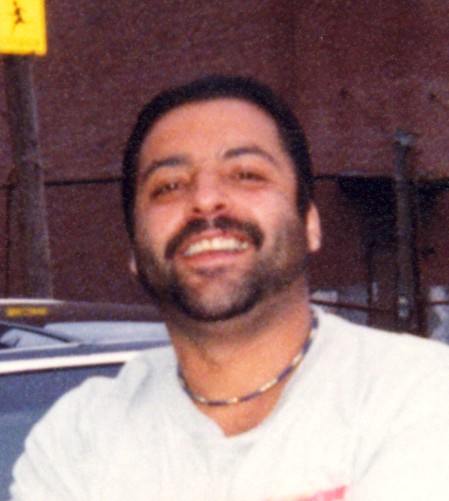 Luis Carlos Garcia

LOWELL Luis Carlos Garcia, 41, of Lowell, died unexpectedly, Monday, July 20, 2009, at Saints Medical Center. He was a son of Carmen M. (Garcia) Gonzalez of Lowell.
Born September 25, 1967, in Patillas, Puerto Rico, he came to the United States with his family when he was seven months old. They settled in Woburn, where he was educated. In 1988, he moved to Lowell, where he had made his home until his death.

Luis was an avid wrestling and sports fan, especially of the Boston teams. He also enjoyed discussing current events and keeping up with the news. In addition, he enjoyed music, especially rock and roll music and in particular Elvis Presley and Flex.

For many years, Luis worked in the roofing and construction industry throughout the Country.
In addition to his mother, Carmen, he is survived by a daughter, Jessica L. Garcia Thomas of Coral Springs, Florida; his sisters, Frances M. Gonzalez and her husband, Juan Diaz, of Lowell, Carmen M. Smith and her husband, Jose, of Lowell, and Gladys Rosa and her husband, Juan Carlos, of Lowell; his brothers, Steven Gonzalez of Boston, Manuel Gonzalez of Woburn, and Junior Gonzalez of Boston; his uncles, Franky Rodriguez of Lowell and Israel Santiago of Woburn; his best friend, Tony Canada of Billerica; and many beloved nieces and nephews, uncles and aunts, his extended family in Texas, and many, many dear friends.

He was also the son of the late Juan 'Johnny' Aquino.

YOU ARE INVITED TO HIS VISITATION STARTING AT 7:30 A.M. ON FRIDAY MORNING, JULY 24. AT THE MCDONOUGH FUNERAL HOME, 14 HIGHLAND STREET, LOWELL 978-458-6816. HIS FUNERAL MASS WILL BE OFFERED AT ST. PATRICK'S CHURCH AT 10 A.M.. BURIAL IN WESTLAWN CEMETERY. E-CONDOLENCE SITE WWW.MCDONOUGHFUNERALHOME.COM