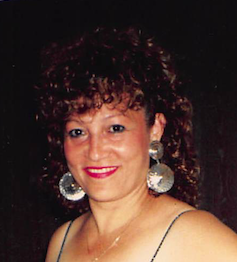 Luz Maria 'Lucy' Piñero

LOWELL Luz Maria 'Lucy' Piñero, 68, of Lowell, passed away after a long battle with alzheimer's disease, Sunday, August 28, 2016 at Fairhaven Healthcare Center.
She was born on June 24, 1948 in Juncos, Puerto Rico, a daughter of the late Rafeal Piñero and the late Catalina (Diaz) Alejandro. Lucy was raised in Juncos, Puerto Rico where she attended the area schools.
Lucy came to the United States with her family settling in Lowell. She enjoyed puzzles, the bigger the puzzle the better. She also enjoyed walking, cooking, taking motorcycle rides, and playing Keno and various lottery games. She also enjoyed comedy, taking adventures, and socializing. Although she had many passions throughout her life, spending time with her family brought her the most happiness.
Lucy enjoyed working for the Bedford VA Hospital for over 14 years in the food service department.
She is survived by five children, Lynette Cotto of San Juan, PR, Oscar Torres of Lowell, Kelvin Piñero of Lowell, Sarita Martinez of Nashua, NH, and Jonathan Cuevas of Lowell; ten grandchildren; and four brothers and five sisters.
AT HER REQUEST, FUNERAL SERVICES HAVE BEEN OMITTED.
ARRANGEMENTS BY THE MCDONOUGH FUNERAL HOME, 14 HIGHLAND STREET, LOWELL, MA 978-458-6816.