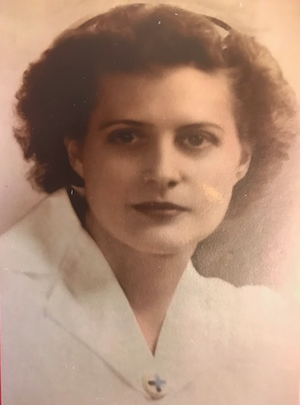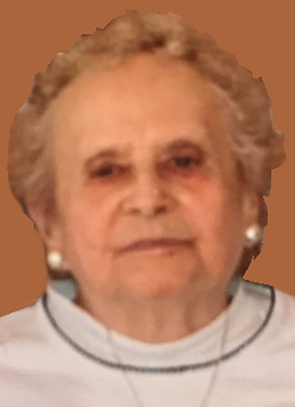 Louise Margaret Deslauriers

CHELMSFORD        Louise Margaret (Richardson) Deslauriers, 97, passed away August 20, 2018, at home surrounded by family. She was the wife of the late Alfred Deslauriers who died July 12, 1994.

    Louise was born in Ripley, Maine on August 24, 1920, the daughter of Walter and Alice (Doyle) Richardson. She graduated from N.H. Fay High School in Dexter, Maine in 1937. She worked as a waitress until she entered St. Joseph's School of Nursing in Nashua, NH. She graduated from there in 1945 with the high honors. She received her pediatric training at the Boston Floating Hospital and joined the Nurses' Cadet Corps. After graduating, Louise worked at St. Joseph's Hospital in Lowell and at Christian Hill Nursing Home.

    Most of the earlier years of her marriage, Louise devoted her time to her wonderful family. In later years, she enjoyed going on trips, sewing and taking part in the activities at the Chelmsford Senior Center.

    Her survivors include her six daughters and her son, Jeannie McEleney of West Roxbury, Bonnie Redding and her husband, Robert, of Litchfield, NH, Lois Berard and her husband, John, of Hollis,NH, Dale Gower and her husband, Patrick, of Lowell, Barry Deslauriers and his wife, Jill, of Hudson,NH, Terry Ann Roddy and her husband, Arthur, of New Ipswich, NH and Barbara Trainor and her husband, Thomas, of Pelham, NH; her seventeen grandchildren, consisting of her twelve granddaughters, Stacie Plourde and her husband, Scott, of Goffstown, NH, Holly Redding-Cooper and her husband, Jeffrey, of Chelmsford, Stephanie Parker and her husband, Dustin, of Derring, NH, Jennifer Swan and her husband, Patrick of Louisville, KY, Chrissy Perry and her husband, Doug, of Merrimac, MA, Roberta Wilmot and her husband, Brian, of Peterborough, NH, Angela Dalecki and her husband, Jonathan, of Wilmington, DE, Suzanne Turgeon of New York City, NY, Bethany McEleney of West Roxbury, Kaitlyn Trainor of Pelham, NH, Erin Untiet and her husband, Christopher, of Manchester, NH, and Brianna Trainor of Pelham, NH, as well as five grandsons, Ryan Gower and his partner, Susan Van Praag of Brooklyn, NY, Arthur Roddy and his wife, Alicia, of Epsom, NH, Timothy Turgeon and his wife,Tiffany, of Allyn, WA, Daniel Trainor and his wife, Jaclyn, of Londonderry, NH and Alex Deslauriers of Hudson, NH. She also survived by twenty great-grandchildren and several nieces and nephews.

    Besides her husband, Alfred, she was predeceased by a son, Brian Deslauriers; five sisters, Maude Sawyer, Evelyn Merlin, Gertrude McKusick, Lucina Mauchan and Edith Esten and her brothers, Henry Richardson and William  Richardson.
    YOU ARE INVITED TO HER CALLING HOURS FROM 4 UNTIL 8 P.M. ON THURSDAY.
ON FRIDAY, HER FUNERAL WILL BEGIN AT 9 A.M. AT THE MCDONOUGH FUNERAL HOME, 14 HIGHLAND STREET, LOWELL 978-458-6816.
HER FUNERAL MASS WILL BE OFFERED FRIDAY AT ST. MARGARET OF SCOTLAND PARISH, 374 STEVENS STREET, LOWELL AT 10 A.M.. BURIAL IN ST. JOSEPH CEMETERY.
IN LIEU OF FLOWERS PLEASE SEND DONATIONS IN HER NAME TO ST. MARGARET OF SCOTLAND PARISH, 374 STEVENS ST., LOWELL MA 01851.