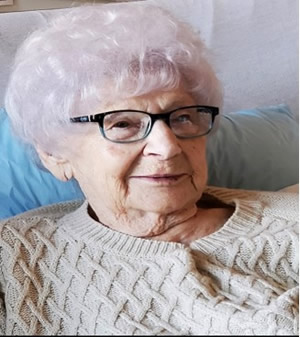 Louise H. (Rusas) Wilson

LOWELL Louise H. (Rusas) Wilson, 98, of Methuen, formerly of Lowell, passed away on Saturday, AprIl 11 at Lowell General Hospital after a long illness. She was the widow of the late Joseph P. Wilson who passed away in 1999 after they shared 57 years of marriage together.

Louise was born in Watertown on May 28, 1921 and was educated in the Lowell school system. She attended the Moody School during this time, among other Lowell schools. She was a longtime member of the Lowell Lithuanian Club's Ladies Auxiliary and was a communicant of the former St. Joseph's Lithuanian Church which was in Lowell.

Mrs. Wilson enjoyed dancing, her dog Piper and spending time with her family, who she leaves behind. She is survived by her 2 daughters, Barbara L. Wood and her husband, Richard, of Belmont, NH and Christine A. Markey and her husband, James, of Bartlett, NH. She is also survived by her grandchildren, Cheryl Auger and her husband, Shawn, of Nashua, NH, Christopher Wood of Laconia, NH, Patrick Wood and his wife, Nicolle, of Hudson, NH; her 6 great grandchildren and 5 great great grandchildren; her sister, Helen Laurin of White River Junction, VT; her longtime friend, Gail Espinola of Methuen; and many nieces and nephews.

She was predeceased by her brother and sister in law, the late Albert J. Rusas and the late Theresa Rusas.

DUE TO MA STATE REGULATIONS DURING THE COVID-19 PANDEMIC, A MEMORIAL SERVICE WILL BE HELD AT A LATER DATE AND WILL BE ANNOUNCED ON THE MCDONOUGH FUNERAL HOME FACEBOOK PAGE AND WEBSITE. THE BURIAL WILL BE HELD PRIVATELY AT ST. MARY CEMETERY. IN LIEU OF FLOWERS, PLEASE SEND DONATIONS IN HER NAME TO THE MSPCA, 400 BROADWAY, METHUEN, MA.