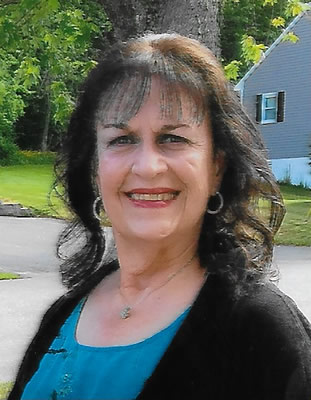 Linda 'Nonnie' Rose Searles

DRACUT Linda 'Nonnie' Rose Searles, 63, of Dracut, passed away unexpectedly Friday, April 15, 2016 at her home.
Linda was born in Cambridge on October 4, 1952 and was a daughter of Morgan Searles and Rose (Goffredo) Searles, both of Burlington. She was raised in Burlington where she was educated, graduating from Burlington High School, before earning her Associates Degree from Middlesex Community College.

She made her home in Dracut and was a communicant of the Immaculate Conception Church in Lowell. Linda was employed as a Government Subcontractor at Schaffer Corporation in Billerica for over 12 years. She enjoyed taking trips, seeing movies with her frie nds, and reading. Linda was a cancer survivor, she enjoyed life, being active, and writing uplifting sayings. Although she had many passions throughout her life, spending time with her family, especially her grandchildren was her favorite past time.

Linda is survived by her three children, Ronald Stokes and his fiancé, Verna Pond of West Townsend, Patricia Stokes-Ramos and her boyfriend, Roy Melo of Lowell, and Donald M. Renkas and his girlfriend, Felicia Boisvert of Dracut; and her grandchildren, Annalise Stokes, RJ Stokes, Austin Ramos, and Blake Ramos. She is also survived by her great granddaughter, Kenleigh St. Louis; her sister, Deborah Searles-Murphy and her husband, Mark of Eliott, ME; her brother, Ronald Searles and his wife, Eileen of Wilmington, MA; three close childhood friends, Cheryl Johnson, Joanne Morrell, and Joanne Derocher; as well as many nieces, nephews, co-workers, and cousins, including her cousins, Wendy Pitts and Frank 'Butchie' Unitowski who were very close to her.
YOU ARE INVITED TO HER CALLING HOURS FROM 4 UNTIL 8 P.M. ON TUESDAY, APRIL 19, 2016. ON WEDNESDAY, HER FUNERAL WILL BEGIN AT 10 A.M. AT THE MCDONOUGH FUNERAL HOME, 14 HIGHLAND STREET, LOWELL, 978-458-6816. HER FUNERAL MASS WILL BE OFFERED AT IMMACULATE CONCEPTION CHURCH, 144 EAST MERRIMACK STREET, LOWELL, AT 11 A.M.. BURIAL IN WESTLAWN II CEMETERY. IN LIEU OF FLOWERS, MEMORIAL DONATIONS IN HER NAME MAY BE MADE TO THE AMERICAN CANCER SOCIETY, 30 SPEEN STREET, FRAMINGHAM, MA 01701. PLEASE VISIT WWW.MCDONOUGHFUNERALHOME.COM TO SEND THE FAMILY AN E-CONDOLENCE.