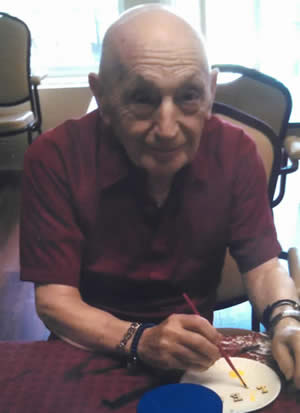 Leonard Joseph 'Leo' Rapone
LOWELL Leonard Joseph 'Leo' Rapone, 93, of Lowell, died Thursday, June 12, 2014, at Emeritus Meadow Lodge, after a long illness. He was the widower of the late Florence E. (Pelletier) Rapone with whom he had shared Sixty Nine years of Marriage prior to her passing away.
A son of the late Mauro and the late Serafina (Ladato) Rapone, he was born May 27, 1921, in Lowell, and was educated in the local schools, graduating from Butler School, Class of 1936.
A communicant of St. Patrick's Church, he was formerly a longtime member of the Lowell Lodge of Elks, B.P.O.E. #87. For over fifty years he played cribbage in many local leagues, and also enjoyed playing cards. In his younger days, he and his wife enjoyed going out dancing with friends and he enjoyed golf. He especially enjoyed taking his dog Jake for daily walks as well as feeding the birds.
In 1935, he started working in the family business that his father had started in 1910, Star Barber, where he continued to work for the next seventy five years.
He is survived by his children, Leonard Rapone and his wife, Michele, of Chelmsford, Rita Ducharme of Dracut, and Louise Fortier of Lowell; his twelve grandchildren, Heidi Lorden and her husband, Gary, of Townsend, Dawn Ann Gearin of Townsend, Jessica Nobrega and her husband, Frank, of Dracut, Donald Ducharme of Dracut, Todd Ducharme and his wife, Kim, of Dracut, Toby Ducharme and his wife, Nancy, of Tyngsboro, Lenny Rapone and his girlfriend, Amy Rock, of Chelmsford, Angela Parks and her husband, Dr. Jeff Parks, of Chelmsford, Christina Rolfe and her husband, Edd, of Missouri, Jeremy Fortier and his wife, Karen, of Lowell, Angelica Rowell and her husband, Sean, of Dracut, and Sean Fortier of Lowell; twenty two great grandchildren; his sister, Rita Shoemaker of Maine; his brother in law, Hector Berube of Dracut; his close friends, Bea Maher of Townsend, and Muggy Juknavorian and his wife, Virginia, of Lowell; several nieces and nephews, including Fernande Ducas of Canada, Antoinette Rapone of Montana; as well as many friends in the area cribbage leagues.
He was the father in law of the late Donald Ducharme, and brother of the late Anthony Rapone, the late Augustine Rapone, and the late Frances Berube.
AS LEO REQUESTED, HIS BODY WAS DONATED TO TUFTS SCHOOL OF MEDICINE.
RAPONE LEONARD JOSEPH 'LEO' RAPONE, 93, OF LOWELL, DIED JUNE 12. YOU ARE INVITED TO JOIN HIS FAMILY AT HIS MEMORIAL MASS ON WEDNESDAY, JULY 2, AT 11:30 A.M. AT ST. WILLIAM'S CHURCH, 1351 MAIN STREET, TEWKSBURY. ARRANGEMENTS BY THE MCDONOUGH FUNERAL HOME, 14 HIGHLAND STREET, LOWELL 978-458-6816. E-CONDOLENCE SITE WWW.MCDONOUGHFUNERALHOME.COM