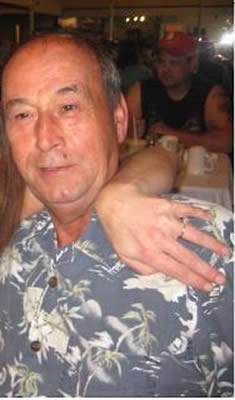 Leo R. Dube

LOWELL Leo R. Dube, 67, a lifelong Lowell resident, died peacefully, Tuesday, December 13, 2011, at Lowell General Hospital.
A son of the late Severin L. Dube and the late Germaine C. (Belmaire) Dube, he was born April 15, 1944, in Lowell, and was educated in the Lowell School System.

Mr. Dube joined the United States Marine Corp. serving in Vietnam. After his honorable discharge, he returned to Lowell, working for the City of Lowell Water Department until his retirement. More recently, he worked for Lowell General Hospital in the housekeeping department. He enjoyed raising his family, and later enjoyed spending time with friends and family and traveling to Las Vegas.
Making his lifelong home in Lowell, he was a communicant of St. Rita Church. He was also a former member of the Pawtucketville Social Club.

He is survived by his loving companion, Anne L. Iannuzzo of Lowell; his daughters, Lynn R. Dumont of Hudson, NH, and Sharon L. Dube of Salem, MA; his grandchildren, Brittany Dumont, Bryanna Dumont, Bailey Dumont, and Brooke Coburn all of Hudson, NH; a great granddaughter, Kailee Rossario of Hudson; step son, Scott A. Alexander of Lowell; his brothers, Paul G. Dube and his wife, Paullette, of St. Cloud, FL, Donald G. Dube and his wife, Donna, of Lowell, Richard J. Dube and his wife, Nancy, of Dracut, and Roland F. Dube of Wells, ME; his best friend whom he met while serving in Vietnam, Mike Cottage and his wife, Stafanie, of Tiltonsville, OH; and many nephews and many nieces.

He was also a brother of the late Evelyn Korsak.

FAMILY AND FRIENDS ARE INVITED TO HIS MEMORIAL MASS ON FRIDAY, DECEMBER 16, AT 9 A.M. AT ST. RITA'S CHURCH, 158 MAMMOTH RD., LOWELL. ARRANGEMENTS BY THE MCDONOUGH FUNERAL HOME, 14 HIGHLAND STREET, LOWELL 978-458-6816. MEMORIALS IN HIS NAME TO DANA FARBER SARCOMA RESEARCH, 10 BROOKLINE PLACE, WEST 6TH FLOOR, BROOKLINE, MA 02445, STREET, CITY, STATE ZIP. E-CONDOLENCE SITE WWW.MCDONOUGHFUNERALHOME.COM