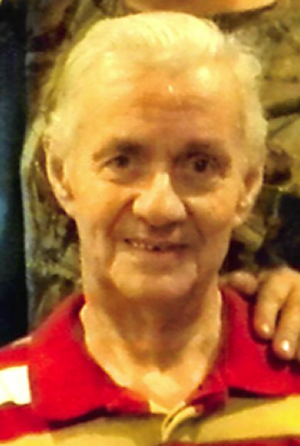 Lee E. Euler
LOWELL        Lee E. Euler, 81, of Lowell, passed away Wednesday, May 17, 2017, at Lowell General Hospital after a longtime struggle with dementia and leukemia.  For more than Fifty Five years, he was the husband of the late Virginia S. (Dussault) Euler, who died September 4, 2016.
     A son of the late Ernest K. Euler and the late Kathleen (O'Leary) Guerrio, he was born November 16, 1935, in Schenectady, New York, and was raised and educated there.  At the age of twelve, he moved with his family to South Carolina, returning to New York to complete his High School education.  He then joined to serve with the  United States Navy during the Korean Conflict, serving for six years in Pearl Harbor.  After his honorable discharge from the Navy, he was touring with a band, and while traveling to Lowell, met the love of his life, Virginia, and stayed in Lowell where they married and raised their family.
     He was employed as a foreman for John W. Egan Company out of West Newton for over fifteen years, and worked in maintenance for the Charles River Country Club as well as the Charles River Ice Skating Rink.  He also worked as a self employed painter in the Greater Lowell area for many years.  
     Mr. Euler was an avid golfer and enjoyed wood working and building things with his hands.
     He is survived by his children, Michael Euler of Lowell, Bryant Euler and his wife, Britt, of Lowell, Kevin Euler and his wife, Vicky, of Walnut Cove, NC, David Monahan of Niagra Falls, NY, and Deborah Lewis of Milford, NH; his eleven grandchildren, Rebecca Turmel, David Monahan, Danny Monahan, Ashley Timm, Bryant Euler Jr. , David Euler and his fiancé Kirsten Pudsey, Stephanie Euler and her boyfriend, Christopher Goulet, Pamela Euler, Sydney Euler, and Lyllian Euler; his brother, John Guerrio of Hollywood, FL; his God daughter, Elizabeth Jardine of Lowell; and many great grandchildren, nieces, and nephews.
      He is predeceased by his siblings Ernest and Joanne; and his grandson, Donny 'Buddy' Lewis
      YOU ARE INVITED TO HIS VISITATION 10 UNTIL 12 NOON ON WEDNESDAY MAY 24, AT THE MCDONOUGH FUNERAL HOME, 14 HIGHLAND STREET, LOWELL 978-458-6816. 
HIS FUNERAL SERVICE WILL BE HELD WEDNESDAY AT THE FUNERAL HOME AT NOON.