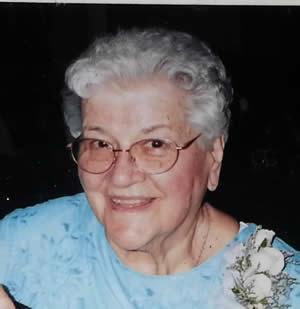 Laurette M. (Gagnon) Caruso
Beloved Mother, Grandmother, and Great Grandmother
SAN LORENZO, CA. – Laurette Marie Caruso passed away on January 16, 2014, after having celebrated her 90th birthday on December 30, 2013. Born the sixth of ten children to Francois and Melina (Soucy) Gagnon in Lowell, MA, she attended Ste. Jeanne d'Arc elementary school. A gifted seamstress, Laurette worked at several garment manufacturing companies in Lowell. She enjoyed going to the Commodore Ballroom to dance, where she met her loving husband of 34 years, Salvatore "Sully" Caruso. Together they enjoyed spending time with their family, dancing, bowling, gardening, cooking and going to the beach. After Sully passed away in 1983, Laurette spent the next 20 years living in both Pepperell, MA and John's Creek, GA with her son Carl and his family. She then moved to San Lorenzo, CA where she resided with her daughter Kathy and her family.
Laurette is survived by her son Carl and his wife Kathleen of Hoschton, GA, her two daughters; Kathyrn Dulkie and her husband Andrew of San Lorenzo, CA, Celeste Gannon and her husband Daniel of Erving, MA, as well as her sister Lucille Poudrier, brother Emile, 11 grandchildren and 19 great-grandchildren. She was predeceased by her husband Sully, son Michael, brothers Leon, Raymond, Henri and Victor, and her sisters Rita Waterhouse and Claire Tanguay. Her sister Alice Baribeault, passed away in February, 2014.
A memorial service will be held at St. Joseph's Cemetery, 96 Riverneck Road, Chelmsford, MA on June 14 at 11 a.m. Arrangements by the McDonough Funeral Home, 14 Highland Street, Lowell, MA 978-458-6816.