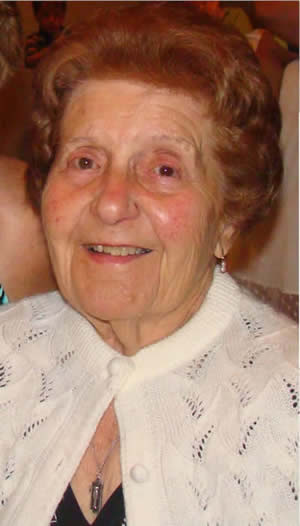 Laura H. VanDinter
LOWELL Laura H. VanDinter, 88, a lifelong resident of Lowell prior to her residency for the last 3 years at the Blaire House in Tewksbury, passed away, Friday, October 30, 2015. She was the beloved wife of 56 years of the late Walter C. VanDinter.
Born and educated in Lowell, she was the daughter of the late Joseph and Gabriella (Pinto) Santos. Laura graduated from Lowell High School with the Class of 1945. She was a communicant of St. Anthony's Church and worked as a traffic supervisor for the City of Lowell for many years until her retirement. She also worked as a wedding coordinator for several companies; was a member of the Portuguese Blue Club and loved to cook and travel with her family.
Laura is survived by her loving children, Walter J. VanDinter, Sr. and his wife Marianne, of Lowell, and Doreen G. Duffy and her companion, Michael McKinnon of Lynn; her devoted sister, Mary Santos of Lowell; her cherished grandchildren, Walter J. VanDinter, Jr. and his wife, JoLynn, of Lowell, Heidi and her husband, Michael Sandler of Lowell, Stephen E. Duffy, Jr. and his wife, Sarah of Lynn and the late Michael C. Duffy; her adoring great-grandchildren, Travis, Nicholas, Jillian, Natalie and Nathan; and several cousins, nieces and nephews.

Laura's funeral will begin at 10:00 a.m. on Wednesday, November 4, 2015 from the McDONOUGH FUNERAL HOME, 14 HIGHLAND STREET, LOWELL (978 or 800) 458-6816 followed by a Funeral Mass to be celebrated at 11:00 a.m. at ST. ANTHONY's PARISH, 893 Central Street, Lowell. Burial will follow at St. Patrick Cemetery, Lowell.
Visiting hours will be held on Tuesday, November 3rd, from 4:00 to 8:00 p.m. at the funeral home. In lieu of flowers, contributions may be made in Laura's memory to the Alzheimer's Association of MA., 480 Pleasant St., Watertown, MA., 02472, or via www.alz.org.