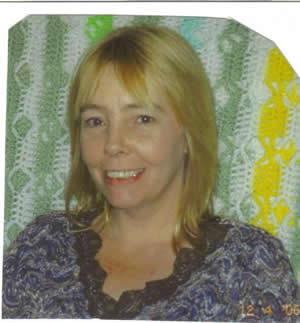 Kimberly J. Spooner

LOWELL Kimberly J. Spooner, 45, of Lowell, died unexpectedly Friday, April 19, 2013 at Lowell General Hospital.

Born June 14, 1967, in Waltham, she was a daughter of the late Karl L. Spooner Sr., and Katherine P. (Arsenault) Nickerson and her step-father, James Boule of Salisbury, MA, and attended the local area schools and earned her Associates Degree in Drug and Alcohol Counseling.

Kimberly enjoyed spending time with her family, especially her mother, nieces and nephews. She was very involved with the community around her and was always lending a helping hand to anyone in need. She had a divine love for animals, especially cats. She was employed as a book packer for Little Brown Publishing Company for 5 years. Kimberly also volunteered her time at the Salvation Army throughout most of her adult life.

In addition to her mother, Katherine and her step-father, James Boule of Salisbury, she is survived by her sisters, Kristine Boothby of North Carolina and her children, Zakkary, Olivia, and Candace (her son, Skhott), and her sister, Kelli Tobin of New York and her children, Harmon and J.P., (and J.P.'s daughter, Lexi); two brothers, Karl Spooner Jr. of New York and his children, Brhandi (and her daughter, Nyessah), Sara (and her sons, Naithan, Jonas, and Parker), Lee-Ann (and her daughter, Jasmine), Trevor, Isayah, and Katie of Texas; and her brother, Matthew Spooner of Natick (his son, Matthew); a brother, Danny Hoover; a daughter, Maxine Miller of Methuen; and her niece Kristina and nephew, Kevin; and many friends.

She was the sister of the late Lisa Spooner.
HER CELEBRATION OF LIFE WILL TAKE PLACE ON JUNE 22, 2013 AT THE NEWBURYPORT MA ELKS LODGE 909, ON LOW STREET IN NEWBURYPORT, MA FROM 1 P.M. - 4 P.M..
ARRANGEMENTS BY THE MCDONOUGH FUNERAL HOME, 14 HIGHLAND STREET, LOWELL (978 OR 800) 458-6816. MEMORIALS IN HER NAME MAY BE MADE TO THE LOWELL TRANSITIONAL LIVING CENTER, 189 MIDDLESEX STREET, LOWELL, MA 01852. PLEASE VISIT WWW.MCDONOUGHFUNERALHOME.COM TO SEND THE FAMILY AN E-CONDOLENCE.