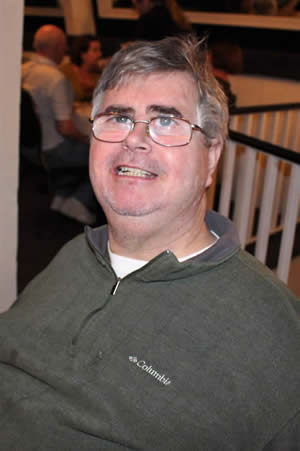 Kevin F. McDonough

REVERE        Kevin F. McDonough, 66, of Revere, passed away Monday, August 12, 2019, at the Edith Nourse Rogers Veterans' Hospital in Bedford after struggling for a few months with liver cancer. He was a son of the late John and the late Mary Josephine (Conway) McDonough.

      Born July 25, 1953, in Boston, he was educated in the Revere School System, and graduated from Malden High School.  He joined and served with the United States Air Force.  After his honorable discharge, he returned to make his home in Malden and attended Boston State University.  

       Mr. McDonough was the head of services at the Mount Washington Hotel in Bretton Woods, New Hampshire for many years.  He then worked in sales and management for Bob's Discount in Revere, retiring in February of 2019.

        Kevin enjoyed spending time with family and friends and regaling them with his countless stories and adventures.He was an avid reader and loved taking walks along Revere Beach. He loved music and the theatre and enjoyed singing as well. He will be remembered fondly for his great sense of humor, his quick wit, his kind heart, and his generous spirit.

       The family would like to thank the Staff at the Veterans' Hospital in Bedford for their kindness and compassion toward Kevin and his family.

       His survivors include his sister Ann Marie (McDonough) Tucker and her husband Paul Tucker of Billerica, his brother Thomas McDonough and his wife Janet (Rauseo) McDonough of Lynnfield, his sister-in-law Dorothy Ann Parkhurst, his  nieces and nephews: Paul Tucker, Maureen (Tucker) Long, Patrick Tucker, John Tucker, the late Michael Tucker, Christopher Tucker, Brian Tucker, Dorothy Ann (McDonough) Paradise, John Scott McDonough, Terence McDonough, Daniel McDonough, Lisa McDonough and Jessica (McDonough) DeLeon, as well as many great and great-great nieces and nephews. He was a brother of the late John McDonough and the late Michael Joseph McDonough. Kevin also leaves behind his many dear friends.

           ON SATURDAY, AUGUST 24, 2019, YOU ARE INVITED TO HIS VISITATION FROM 2 UNTIL 6 P.M. AT THE MCDONOUGH FUNERAL HOME, 14 HIGHLAND STREET, LOWELL 978-458-6816. 
HIS FUNERAL SERVICE AND MILITARY HONORS WILL TAKE PLACE SATURDAY AT 6 P.M. IN THE FUNERAL HOME.
IN LIEU OF FLOWERS, CHARITABLE DONATIONS MAY BE MADE TO YOUR FAVORITE VETERANS' GROUP.