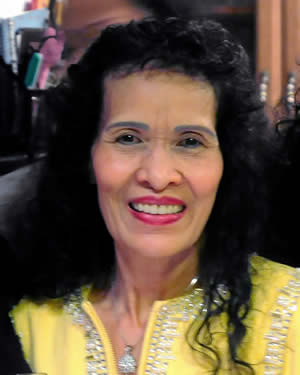 Phyrun Keo
LOWELL Phyrun Keo, 64, of Lowell, died Sunday, March 10, 2013.
Born December 9, 1948, in Cambodia, she relocated to Thailand, and soon after she moved to the Philippines, then moved to France before settling in the United States in New York City.
She worked in New York as a Cambodian Liason to the Community and more recently made her home in Lowell. She was very active in the Cambodian Community, and was very involved with her culture and especially enjoyed teaching the youth about their culture. In the 1990's she was a licensed barber in the Lowell area.
She is survived by her boyfriend, Stephen Lanava of Worcester as well as many friends including Vicheka Vong of Lowell, Sam Pich and his wife, Botum Prum of Lowell, Tarvorn Prumket and his wife, Boseba Prum of Lowell, Margaret Mathes of Lowell, Vanny Prum of Lowell, and Rany Tann of Lowell.
She was predeceased by her husband and children who were killed before they had the chance to leave Cambodia.
YOU ARE INVITED TO HER VISITATION CEREMONY ON SUNDAY, MARCH 17, FROM 4 PM UNTIL 6 PM, AT THE GLORY BUDDHIST TEMPLE, 24 CAMBRIDGE STREET, LOWELL, MA, IMMEDIATELY FOLLOWED BY A PRAYER CEREMONY BEGINNING AT 6 P.M. AT THE TEMPLE. HER FUNERAL WILL TAKE PLACE ON MONDAY, MARCH 18, AT 9 A.M. FROM THE TEMPLE. ARRANGEMENTS BY THE MCDONOUGH FUNERAL HOME, 14 HIGHLAND STREET, LOWELL 978-458-6816. PLEASE VISIT WWW.MCDONOUGHFUNERALHOME.COM TO SEND THE FAMILY AN E-CONDOLENCE.