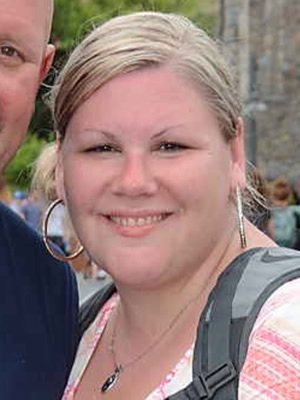 Kelly Lynn 'Kel' Haggerty
TYNGSBORO Kelly Lynn 'Kel' Haggerty, 39, of Tyngsboro, passed away unexpectedly in her sleep on Monday, July 2, 2018.  She was the fiancé of John Flaherty for many years.
She was born in Lowell on May 23, 1979 and was a daughter of Jim Haggerty and MaryLou (Gregoire) Haggerty, both of Lowell. She was raised in Lowell where she attended the area schools, graduating from Greater Lowell Voke in 1997.
Kelly was employed as a medical assistant for Lowell General Hospital for many years. Prior to working at Lowell General, she was employed at Southern New Hampshire Medical Center. 
She loved traveling and spending time on the beach. She was a devoted mother and loved attending her sons basketball games. Above all else, she cherished time spent with her family, especially her children. She also liked to spend time with her fiancé and friends at the Pawtucketville Social Club.
In addition to her parents, Jim and MaryLou of Lowell, and her fiancé, John Flaherty of Tyngsboro, she is survived by two children, Bryan Nelson Jr. and Jaxon Flaherty; and her two sisters, Tracy Pluchak of Hampton, NH and Kim Monahan and her husband, William of Dracut, in addition she leaves many nieces and nephews.
She is also survived by John's family, including his daughter, Rachel Flaherty of Dracut; his grandchildren, Jacob and Jonathan Frotton of Dracut; his parents, Susan and John Flaherty of Pelham; his siblings, Tara Flaherty and her companion, Mickey Spinale Jr. of Pelham, and Dave Flaherty and his wife, Kate of Tyngsboro.
ON SUNDAY, JULY 8, YOU ARE INVITED TO ATTEND HER VISITATION FROM 2 P.M. - 5 P.M. AT THE MCDONOUGH FUNERAL HOME, 14 HIGHLAND STREET, LOWELL 978-458-6816. A PRAYER SERVICE WILL BE HELD SUNDAY AT 5 P.M. HER  BURIAL WILL TAKE PLACE PRIVATELY.