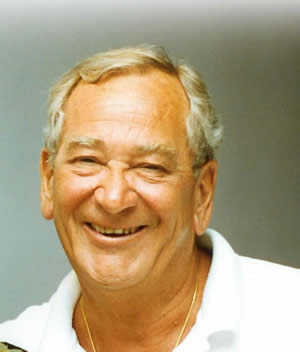 Joseph Charles Siaglo
LOWELL Joseph Charles Siaglo, 86, of Lowell, passed away after a long illness with his family by his side on Tuesday, May 17, 2016 at Lowell General Hospital-Saints Campus.
He was born in Saugus on January 13, 1930 and was a son of the late Boleslaw and the late Pauline (Ozochowski) Siaglo. Joseph was raised and educated in Saugus, where he met the love of his life, Thelma R. (Silva) Siaglo. On May 20, 1956, Joseph married Thelma and relocated to Lowell, where they raised their family together, and would have celebrated their 60th wedding anniversary on Friday. For the past 27 years, Joseph and Thelma enjoyed spending winter seasons together at his home in Naples, Florida.
He resided in the Belvidere section of Lowell and was a communicant of Holy Trinity Church. Joseph was employed as a Draftsman for RCA in Burlington for over 25 years before his retirement in 1990. He was a longtime member of the Chelmsford Elks and the American Legion in Naples, Florida. As a young man, Joseph enjoyed skiing and later in life he became an avid golfer. He was also a fan of the Boston Bruins and the New England Patriots.
In addition to his wife, Thelma, he is survived by two daughters, Debora A. Lucinskas and her husband, Robert of Methuen and Paula S. Muse and her husband, Richard of Candia, NH; five grandchildren, Erick J. Muse and his wife, Mary Davis Muse, Heather Siaglo, Jordan Muse, Cassandra Muse, and Jesse Siaglo. He is also survived by one great grandson, Emet Pearl; one sister, Alice Babcock of Saugus; and many nieces and nephews.
Joseph was also the brother of the late Anne Fronc, Stella Zapolski, Jean Mazzone, and Helen Furey.

ON THURSDAY, MAY 19, YOU ARE INVITED TO HIS CALLING HOURS FROM 4 UNTIL 8 P.M. AT THE MCDONOUGH FUNERAL HOME, 14 HIGHLAND STREET, LOWELL, 978-458-6816.
ON FRIDAY, MAY 20, HIS FUNERAL WILL BEGIN AT 9 A.M. AT THE FUNERAL HOME. HIS FUNERAL MASS WILL BE OFFERED AT HOLY TRINITY CHURCH, 340 HIGH STREET, LOWELL AT 10 A.M..
BURIAL WILL FOLLOW AT HOLY TRINITY CEMETERY ON BOSTON ROAD IN LOWELL. DONATIONS IN HIS NAME MAY BE MADE TO DANA FARBER-JIMMY FUND, P.O. BOX 849168, BOSTON, MA 02284.