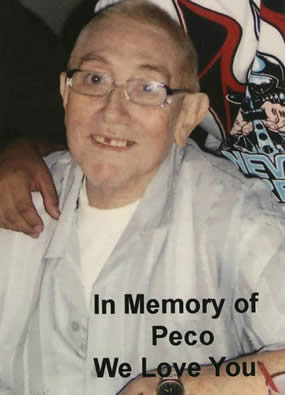 Jose A. 'Peco' Medina

LOWELL Jose A. 'Peco' Medina, 65, of Lowell, died Friday, February 5, 2010, at Holy Family Hospital in Methuen after a long battle with his illness.

A son of the late Jose A. Medina and the late Melania (Jimenez) Medina, he was born August 28, 1944, in Puerto Rico, and raised and educated there. In 1976, he relocated to the United States, settling in New York and later moving to Philadelphia. Since 1984, he has made his home in Lowell.

Peco enjoyed music, in particular salsa music. He especially enjoyed spending time with his family, and was a loving and caring 'Welo Wah' to his grandchildren. He took pride in making sure his family always came first.

Mr. Medina worked as a merchant marine for more than fifteen years. He will be remembered as a great designer having worked as a handyman and carpenter in construction and rebuilding as well.
He is survived by his children, Zaida E. Rivera and her husband, Jose, of Lowell, Magda G. Medina of Philadelphia, PA, Neyda L. Nieves and her husband, Harry, of Lawrence, Brenda L. Medina of Philadelphia, PA, and Jose A. Medina Jr. of Lowell; his seventeen grandchildren, affectionately known as his 'Welitos'; seven great grandchildren; his sister, Miriam Medina of Bronx, NY; and many nieces and nephews.

He was also a brother of the late Myrna Medina.

YOU ARE INVITED TO HIS VISITATION 10 UNTIL 12 NOON, WEDNESDAY, FEB. 10, AT THE MCDONOUGH FUNERAL HOME, 14 HIGHLAND STREET, LOWELL 978-458-6816. HIS FUNERAL SERVICE WILL BE HELD AT 12 NOON AT THE FUNERAL HOME. BURIAL IN WESTLAWN CEMETERY. E-CONDOLENCE SITE WWW.MCDONOUGHFUNERALHOME.COM