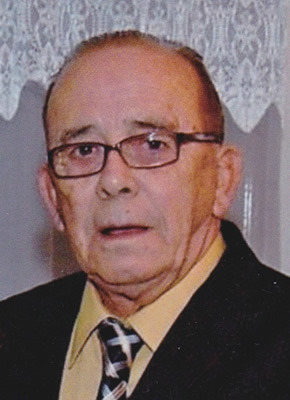 Jose G. "J.B." Borba
LOWELL Jose G. "J.B." Borba, 77, of Lowell, died after a brief illness on Saturday, July 4, at Lowell General Hospital - Saints Campus. He was the husband of Maria J. (Reis) Borba for the past 53 years.

Born February 21, 1938 in Calheta, Sao Jorge, Azores, Portugal, he was a son of the late Fernando M. Borba and the late Palmira S. (Sao Joao) Borba. He was raised and educated in the Sao Jorge area, working as a fisherman until, at age 35, he moved to the United States with his wife, settling in Lowell.

He resided in Lowell's Lower Belvidere neighborhood and worked as a machine operator for many years with Lawrence Made Shoe Company, Pandel, Wang Laboratories and eventually retired from Joan Fabrics in 2000. He loved spending time at The Red's Club and enjoyed the companionship of his large family. He always looked forward to traveling back to the Azores and was also an ardent supporter of S.L. Benfica.

Besides his beloved wife, Maria, he is survived by his brothers and sisters, Isalino and his wife, Fatima Borba, of Lowell, Eduino and his wife, Filomena Borba, of Lowell, Antonio and his wife, Aurora Borba, of Hilmar, CA, Climaco Borba and his companion, Hermelinda Mendes, of San Jose, CA, Adelaide and her husband, Jose Paiva, of Lowell, Heduina and her husband, Manuel Silva, of Lowell, Fernanda Borba of Lowell, Orlando and his wife, Nelia Borba, of Lowell, Fernando V. and his wife, Lucia Borba, of Lowell. He is also survived by his brothers and sisters in law, Luis and his wife, Fatima Reis, of Newmarket, Canada, Vitor and his wife, Orlanda Reis, of Lowell, Lizuarte Reis of Lowell, Fatima Reis of Lowell, Aldora and her husband, Flamino Azevedo, of Lowell, Maria Zita and her husband, Arnaldo Avila, of Lowell, Lolita and her husband, John Lazaro, of Dracut, Bernadete Reis and her fiance, Manuel Silva, of Dracut, Rosa and her husband, Jose Afonso, of Lowell, and many nieces and nephews, as well as 4 God Children.

He was the brother in law of the late Jose Reis, and the late Jose G. Camara.

YOU ARE INVITED TO ATTEND HIS CALLING HOURS FROM 4 UNTIL 8 P.M. ON TUESDAY, JULY 7 AT THE MCDONOUGH FUNERAL HOME, 14 HIGHLAND STREET, LOWELL 978-458-6816. ON WEDNESDAY, HIS FUNERAL WILL BEGIN FROM THE FUNERAL HOME AT 9 A.M.. HIS FUNERAL MASS WILL BE OFFERED AT 10 A.M. AT ST. ANTHONY'S CHURCH ON CENTRAL STREET IN LOWELL. A PROCESSION WILL FOLLOW FROM CHURCH FOR HIS BURIAL AT LOWELL CEMETERY ON LAWRENCE STREET. DONATIONS MAY BE MADE IN HIS NAME TO: THE AMERICAN HEART ASSOCIATION, FOUNDERS AFFILIATEM PO BOX 417005, BOSTON, MA 02241-7005.