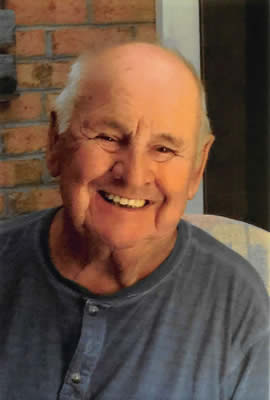 John 'Johnny' Koukias
LOWELL John Koukias, 86, of Lowell, died Friday at Palm Center Nursing Home in Chelmsford. He was born on October 12, 1932 in Lowell and was the son of the late Gladys (Hozlslander) Koukias and the late Stefanos Koukias. Before his retirement he was employed as a delivery truck driver for Demoulas' for many years. He also worked as a milk delivery man at Koukias Farm, which his father started before he was born.
He is survived by three sisters, Mrs. Nicholas (Helen) Koumpouras of Lowell, Mrs. Emery (Carol) Wilkins of Dunstable and Mrs. Gregory (Effie) Vassilakos; two daughters, Mrs. Robert (Elizabeth) Michalczyk of Townsend, and Ms. Diane Bomba of Carolina Beach; and one son, Michael Koukias of Lowell. He is also survived by six grandchildren, Robert Michalczyk, Jennifer Michalczyk, Timothy Michalczyk, Christine Bomba, Kathryn Lockwood, and John Koukias; and 7 great grandchildren.
He was the husband of the late Theresa (O'Keefe) Koukias; father of the late John Koukias; grandfather to the late Matthew Koukias; and brother to the late Mrs. James (Mary) Vasilopoulos, the late Mrs. George (Evanthea) Demoulas, the late Mr. Charles Koukias, and the late Mr. Alexander Koukias.
YOU ARE INVITED TO HIS VISITATION AND FUNERAL. HIS VISITATION WILL BE HELD ON MONDAY, JULY 1 FROM 4 UNTIL 7 P.M. AT THE MCDONOUGH FUNERAL HOME, 14 HIGHLAND STREET, LOWELL 978-458-6816. ON TUESDAY MORNING, PLEASE GATHER AT THE FUNERAL HOME BETWEEN 8:30 AND 9 A.M. THE FUNERAL SERVICE WILL BE BEGIN AT 9 A.M. FOLLOWED BY BURIAL AT LOWELL CEMETERY. MEMORIAL DONATIONS IN HIS NAME MAY BE MADE TO: ALZHEIMER'S ASSOCIATION, 309 WAVERLEY OAKS ROAD, WALTHAM, MA 02452. PLEASE VISIT WWW.MCDONOUGHFUNERALHOME.COM TO SEND THE FAMILY AN E-CONDOLENCE