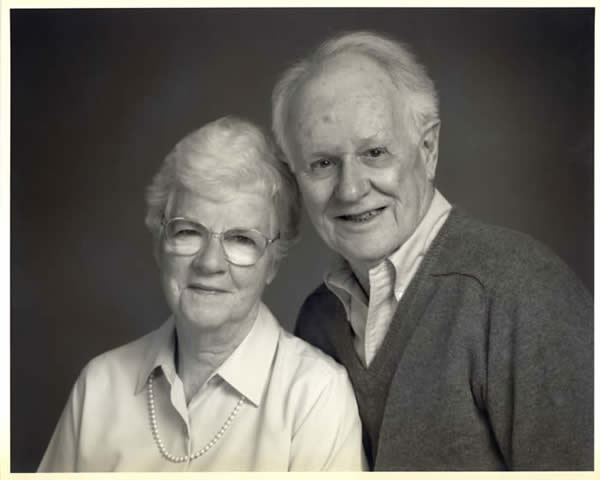 John J. and Elizabeth M. Lynch
FAIRFIELD John J. (Jack) Lynch, 85 died peacefully December 31,2008 after a long illness. His wife, Elizabeth McDonough (Betty) Lynch, 87 died suddenly December 17, 2008. Longtime Fairfield residents, they moved to Andover, MA in 2005. Their 60th wedding anniversary would have been February 26. Jack was born in Cambridge, MA the son of the late John J. and Theresa (Doherty) Lynch. He graduated from Lowell High School and began a long career in retail sales promotion and marketing at the Bon Marche Co. in Lowell. He worked 25 years for the D.M. Read Co. of Bridgeport retiring as executive vice president. During his tenure the Read department store system grew substantially.
Betty was born in Lowell, the daughter of the late John L. and Margaret (Moloney) McDonough. A graduate of Keith Hall and St. John's Hospital School of Nursing, she attended Boston University and was a veteran of the U.S. Army Nurses Corps, attaining the rank of lieutenant. After her children were grown, she returned to nursing, working at Southport Manor and Carelton Convalescent Hospital. During retirement the couple loved to travel and
saw much of the US, Canada and Europe. They also loved spending time with their grandchildren, reading, playing bridge and visiting with friends. They were active community volunteers with special devotion to hunger, homelessness and social justice issues.
They are survived by five children, Meg and her husband Steve Barrett of Bevery Farms, MA; Jay Lynch and his wife Debbie of Warwick, NY.; Kevin Lynch and his wife Julia of East Hampton, CT; Mimi Lynch of Woodside, NY and Lisa Lynch of Southport; seven grandchildren, Owen Barrett of NYC; Ben Barrett of Santa Cruz, CA; Cara, Maura and John Lynch of Warwick, NY; and Patrick and Timothy Lynch of East Hampton, CT. Also his brother, Kevin A. Lynch, C.S.P. of NYC and sister-in-law, Elinor P. Lynch of Concord, MA; and her sisters, Margaret Rynne of Lowell, Virginia MacLellan of Tewksbury, and Constance McInerney of Chelmsford, MA. They were aunt, uncle, cousins, and friends to many. They were predeceased by his brother James D. Lynch, sister M. Patterson (Lynch) Alexander; and her brothers John L. and Joseph McDonough and her sister Eleanor Wilson. A service was held in Lowell, January 3, 2009.
YOU ARE INVITED TO THEIR MEMORIAL MASS ON SATURDAY, JANUARY 24, 2009, AT 11 A.M. AT THE EGAN CHAPEL OF ST. IGNATIUS LOYOLA, FAIRFIELD UNIVERSITY, FAIRFIELD, CT.
Church address for directions: 1073 North Benson Road, Fairfield, Connecticut 06824
BURIAL WILL BE PRIVATE.
ARRANGEMENTS BY THE MCDONOUGH FUNERAL HOME, 14 HIGHLAND STREET, LOWELL (978 OR 800) 458-6816.
IN LIEU OF FLOWERS DONATIONS MAY BE SENT TO COVENANT HOUSE, PO BOX 96708, WASHINGTON, D.C. 20090-6708.