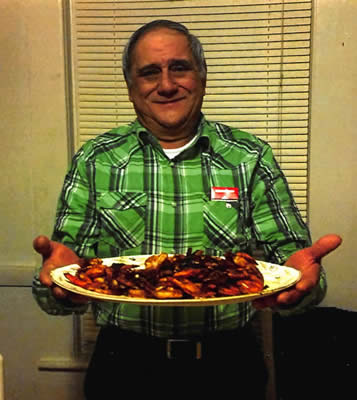 John Avelino 'Santos' Santos

LOWELL John Avelino 'Santos' Santos, 72, of Lowell, passed away unexpectedly, Wednesday, March 11, 2020, at Tufts Medical Center. He was the beloved husband to Rosa (Rodrigues) Santos for over forty years.

A son of the late Pedro Machado Dos Santos and the late Maria Amelia (Linhares) Dos Santos, he was born November 10, 1947, in Terceira, Azores, Portugal, and was raised and educated in Terceira. He was a member of the Portuguese Navy for many, many years, and came to the United States in December of 1986, making his home in Lowell.

He worked as a metal fabricator at Cambridge Tool for several years. He was a communicant of St. Anthony's Church, as well as a member of the Portuguese American Civic League, the 'Reds' Club. His hobbies included fishing, cooking, especially cooking his favorite shrimp, and tending bar at the Red's Club. He also will be remembered as a giving person as he loved helping people

Besides his devoted and loving wife, Rosa he is survived by his daughters, Ana Endlich, and her husband, Cornelius of Maryland, Elisabete Santos and her wife, Jennifer of Lowell, and Cindy Nicolau and her husband, Marco of Lowell; his six grandchildren, Sean, Cornelius, Dominic, Manuel, Liana, and Naden; and his siblings, Regina Morias and her husband, Joao of CA, and Zilda Morias and her husband, Arthur of CA.
He is also survived by his father in law, Ildebrando Rodrigues of Hudson, MA; his brothers and sisters in law, Amanda Rodrigues and her husband, Al Azevedo of Lowell, Luisa Oliviera and her husband, Carlos of Tewksbury, Decio Rodrigues, and his wife, Marta of Nashua, Mary Carvalho of Hudson, MA, Cristina Kohlman and her husband, Patrick of Windham, NH, and Fernando Rodrigues and his wife, Melissa of Billerica. He is also survived by many nieces, nephews and friends, including his longtime friends, Joao Cardeiro and Helio Silva.
He was also a son in law of the late Maria Rodrigues.

DUE TO CORONAVIRUS CONCERNS, THE ARCHDIOCESE IS LIMITING ATTENDANCE OF FUNERAL MASSES TO FAMILY MEMBERS. BOTH FAMILY AND FRIENDS ARE WELCOME TO PAY THIER RESPECTS DURING THE CALLING HOURS ON SUNDAY, HOWEVER THOSE AT AN INCREASED RISK DUE TO HEALTH REASONS MAY WISH TO SEND THE FAMILY A MESSEGE AT mcdonoughfuneralhome@gmail.com
THE FUNERAL HOME HAS ALWAYS BEEN CLEANED AND DISENFECTED BETWEEN SERVICES, AND WITH THE RECENT COVID-19 CONCERNS OUR EFFORTS MAY INCLUDE DISENFECTION OF FREQUENTLY TOUCHED SURFACES DURING SERVICES.
ON SUNDAY, FAMILY AND FRIENDS ARE INVITED TO HIS CALLING HOURS FROM 2 UNTIL 6 P.M.
ON MONDAY RELATIVES ARE WELCOME TO ATTEND HIS FUNERAL WHICH WILL BEGIN AT 9 A.M. AT THE MCDONOUGH FUNERAL HOME, 14 HIGHLAND STREET, LOWELL 978-458-6816. HIS FUNERAL MASS WILL BE OFFERED AT ST. ANTHONY'S CHURCH, 893 CENTRAL ST., LOWELL AT 10 A.M..
BURIAL IN LOWELL CEMETERY. TO ASSIST THE FAMILY WITH FUNERAL EXPENSES, PLEASE MAKE DONATIONS IN HIS NAME DIRECT TO THE FUNERAL HOME.
CLICK HERE FOR MORE INFORMATION FROM THE CARDINAL