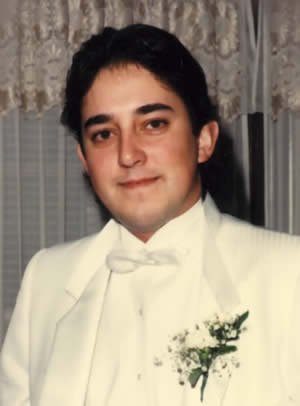 Joe Anthony Furtado
LOWELL Joe Anthony Furtado, 41, of Lowell, died Thursday, March 26, 2009, at Saints Medical Center after a brief illness.
A son of Evangelina (Gomes) Furtado with whom he lived, and the late Jose F. Furtado, who died March 12, 2009, he was born October 16, 1967, in Fresno, California, where he lived until the age of three. He then lived in the Azores until age seven, when he came back to the United States, settling in Lowell, where he was educated in the local schools, graduating from Greater Lowell Technical High School. He loved his family, and enjoyed spending time with them. He was a talented artist, and also a drummer, he enjoyed Led Zeppelin, and played for various local rock bands.
Making his home in the Back Central Street Area of the City, he was a welder for General Electric in Wilmington.
In addition to his mother, Evangelina, of Lowell, he is survived by four children, Steven Furtado, Samantha Furtado, and Andy Furtado all of Derry, New Hampshire , and Amanda Furtado, of Lowell, New Hampshire; a brother, Frank Furtado and his wife, Lisha, of Pelham, NH; his girlfriend, Kim, of Lowell; nephews, Frank Furtado and his wife, Erin, of Pelham, NH, and Tony Furtado and his wife, Brenda, of Pelham, NH; as well as three great nieces and a great nephew.
AT HIS REQUEST, HIS FUNERAL AND BURIAL TOOK PLACE PRIVATELY.
ARRANGEMENTS BY THE MCDONOUGH FUNERAL HOME, 14 HIGHLAND STREET, LOWELL 978-458-6816.