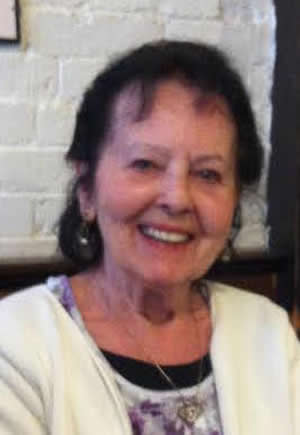 Joan Ruth Dunlop
LOWELL      Joan Ruth (Morse) Dunlop, 82, of Lowell,  passed away Wednesday, February 7, 2018, after a long illness, at Lowell General Hospital-Saints Campus.  
    A daughter of the late Burton Morse, and the late Evelyn (Harmon) Pinkham, she was born February 24, 1935, in the County of Sagadahoc, Bath, Maine, and was educated in Maine and Cambridge, MA.
     Her primary focus in life was being a devoted, strong and loving Mother. Art and poetry were her two passions, being an artist and a member of the Chelmsford Art Society for many years. She also enjoyed trips to the beach and enjoyed spending quiet time reading or walking along the Riverwalk of the Merrimack.  
      A self taught gifted seamstress, Joan showed great pride in making clothing for family, and even made wedding dresses for her daughters, sewing each stitch with affection and love.  
     Raising her family in Chelmsford, she attended services at the Central Congregational Church in Chelmsford. She had worked in the electronics industry with DRC in Chelmsford before her retirement. In more recent years, she made her home in Lowell.
     Her survivors include her children, Cheryl Petren and her husband, Arthur, of Tyngsboro, Sandra Peters and her fiancée, Milton Schmidt, of Dracut, Cynthia Joyce and her husband, Michael, of Nashua, NH, and John Dunlop and his significant other, Courtney Moore, of Florida; her eleven grandchildren, Albert Petren and wife Emily, Nicholas Petren and wife Isabella , Joanna Gray and husband Shaun, Melissa Boisvert, Tanja Vidovic and husband Jared, Thomas Harmon, Sarah Santosuosso and husband Albert, Michael Joyce, Derek Joyce, Joseph Joyce, John Joyce; her ten great grandchildren, Alexus Boisvert, Madeline Petren, Evelyn Petren, Lillian Gray, Kalina Vidovic, Rowan Vidovic, Ruby Vidovic, Albert Santosuosso, Isabel Santosuosso, and  Kamryn Harmon; her dear friend, Steve Buckjune of Lowell; her two sisters, Beverly Kyllonen and Paulette Grenier; her three brothers, Philip Morse, Charles Morse and Ralph Morse; and many nieces, nephews, and friends.
     She was also predeceased by her son the late Jimmy Dunlop and her late granddaughter, Christine Petren and late brother, Burton Morse, Jr.
           HER FUNERAL SERVICE WAS HELD PRIVATELY FROM THE MCDONOUGH FUNERAL HOME, 14 HIGHLAND STREET, LOWELL 978-458-6816. IN LIEU OF FLOWERS, PLEASE SEND MEMORIALS IN HER NAME TO THE JIMMY FUND, DANA FARBER CANCER INSTITUTE, P.O. BOX 849168, BOSTON MA 02284-9168.