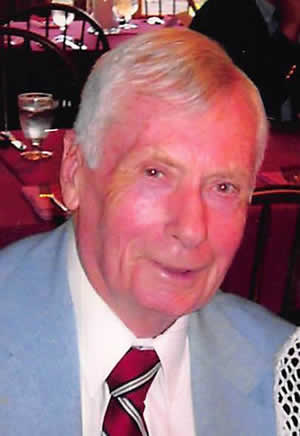 James J. O'Brien

LOWELL        James J. O'Brien, 91, passed away at his home on Friday, November 22, 2019, surrounded by his loving family.  He was the beloved husband of Patricia M.O'Brien, with whom he celebrated  their Sixty Sixth Wedding Anniversary last May.

   Jim was born in Lowell on March 17, 1928, the son of James and Margaret (Spellissey) O'Brien. He attended St.Peter's Grammar School and graduated from Keith Academy. Upon graduating from High School, he was a manager for New England Dairy Company. He served in the Korean War and was stationed in Greenland. His career spanned more  than thirty years working for Courier Printing before his retirement as a Chief Estimator.

    He loved his family, his faith, and his friends. He enjoyed life and good times.  His family was most important to him.  He loved gathering for family events.  His legacy will continue as he taught his family how to be kind and strong. He had a full and wonderful life and leaves his family and friends with many happy memories. Dear Jim, Dad, Grampy, we will miss you.

      In addition to his loving wife, Patricia, he is survived by his caring and loving sons, James O'Brien Jr. of Lowell, David O'Brien and his wife, Kendra, of Dracut, and Paul O'Brien and his wife, Sheila of Dracut; his daughter in law, Cheryl O'Brien of Chemsford, formerly of Lowell; his seven grandchildren, Stephen O'Brien Jr., Shawn  O'Brien, David O'Brien, Courtney Arnold, Tommy O'Brien, Jake O'Brien, and Erin Gilbride; his five great grandchildren, Rylee O'Brien,  Meagan O'Brien,  Arianna Arnold,Brooke O'Brien,  and Colton Arnold; his brother, Ralph O'Brien of Clearwater, Florida; and several nieces and nephews.

       He was also the father of the late Stephen O'Brien who passed away in 2017, and father in law of the late Cathy O'Brien who passed away in 2015, and the brother of the late Kathleen Casasa and Sr. Mary O'Brien; and leaves behind his former daughters in law Susan O'Brien and Janet O'Brien.

          YOU ARE INVITED TO HIS CALLING HOURS 3 UNTIL 7 P.M. ON TUESDAY NOVEMBER 26, 2019.  
ON WEDNESDAY, NOVEMBER 27, 2019, HIS FUNERAL BEGAN AT 9 A.M. AT THE MCDONOUGH FUNERAL HOME, 14 HIGHLAND STREET, LOWELL 978-458-6816. 
HIS FUNERAL MASS WAS OFFERED WEDNESDAY, NOVEMBER 27, 2019AT ST. MARGARET OF SCOTLAND PARISH, 374 STEVENS ST., LOWELL AT 10 A.M..  BURIAL IN ST. PATRICK CEMETERY.  
MEMORIAL CONTRIBUTIONS MAY BE MADE IN HIS NAME TO MERRIMACK VALLEY HOSPICE, 360 MERRIMACK STREET, LAWRENCE, MA.