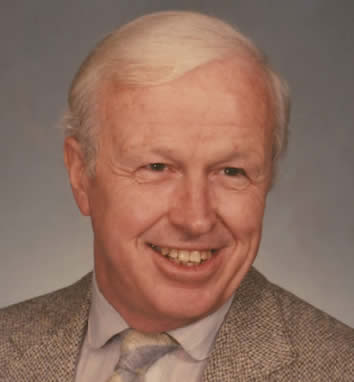 James 'Jimmy' Edward Fitzgerald

CHELMSFORD James 'Jimmy' Edward Fitzgerald, 83, of Chelmsford, died after a long illness Wednesday, February 3, 2010 at home. He was the husband of Judith (Stearns) (Hayden) Fitzgerald.

Born March 1, 1926, in Lowell, he was a son of the late William, and the late Christina (Delehanty) Fitzgerald, attended the local schools, and graduated from Lowell High School.

After graduating high school, Mr. Fitzgerald joined the United States Navy. He served in the Navy as a 2nd class pharmacy mate aboard the USS Prince William in World War II and was also stationed in the Naval Base in Chelsea during the Korean War.

He resided on Chelmsford for the past sixty years, and was a well known attendee at many of the area churches. Every weekday he would travel by bicycle to attend Mass at St. Mary's Church, every Saturday he attended Mass at St. Patrick's Church, and every Sunday he attended Mass at Immaculate Conception Church. He was employed as a pressman for over fifty years for the Courier Citizen and for the Lowell Sun. He was a member of the Ancient Order of Hibernians, and was also an Oblate Lay Associate. He enjoyed feeding birds, golfing with his son, and working out every morning at the Radisson Health Club. He also enjoyed working in his garden and had many friends in the Chelmsford Garden Club.

Besides his wife, Judith, he is survived by his children, William Fitzgerald and his wife, Kitty of Pennsylvania, Thomas Fitzgerald of Boston, David Hayden and his wife Anne of Chelmsford, and his beloved son, Andrew Fitzgerald and his wife, Natalia of Chelmsford; a brother, William Fitzgerald and his wife, Sheila of Florida; six grandchildren, Mark, Stephen, and Christopher Fitzgerald, Katherine, Alexandria, and Deanna Hayden; one great granddaughter, Annabel Fitzgerald, three cousins, Virginia, Donald and Leonard Fitzgerald all of Lowell.

He was the husband of the late Jacqueline Ryder Fitzgerald, and he was the brother of the late Christina Wadleigh, and Joseph Fitzgerald.

YOU ARE INVITED TO HIS CALLING HOURS 7:30 UNTIL 10 A.M. ON FRIDAY, FEBRUARY 5 AT THE MCDONOUGH FUNERAL HOME, 14 HIGHLAND STREET, LOWELL 978-458-6816. HIS FUNERAL MASS WILL BE OFFERED FOLLOWING THE CALLING HOURS AT ST. MARY'S CHURCH AT 11 A.M.. BURIAL IN ST. PATRICK CEMETERY. E-CONDOLENCE SITE WWW.MCDONOUGHFUNERALHOME.COM