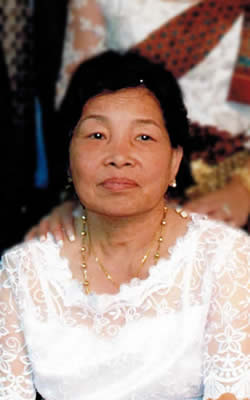 Huoy Moeung
WESTFORD Huoy Moeung, 71, of Westford, passed away Sunday, January 7, 2018, at her home surrounded by her loving family. She was the widow of the late En Kim Op who passed away in 2006.

Born January 1, 1947, in Kratie, Cambodia, she was raised in Cambodia and married. After her marriage, she moved with her family to the United States on May 25, 1982, to make a better life for all of them. .

She was full of spirit, and a very hard worker, she loved to sew and make clothes. Her favorite past time was spending time with her family, especially her children, and beloved grandchildren, she instilled her perseverance, and strength in them all.
Huoy worked as a machine operator at Veryfine in Littleton for a few years before she owned and operating the Coin Op Laundromat on Broadway Street for many years.

She is survived by her children, Bona Kim Op of Lorton, VA, Kevin Op and his wife, Sophia San, of Westford, and Sopheary Op and her husband, Sokline Khin, of Westford; her seven grandchildren, Soonhout Eam, Chhiv Guek Op, Richard Op, Veronica Op, Anthony Op, Vivienne Khin, and Adrian Khin; her older sister who resides in Cambodia; her great grandchildren; and several nieces and nephews.
ON THURSDAY, YOU ARE INVITED TO HER VISITATION BEGINNING AT 3 P.M. AT THE GLORY BUDDHIST TEMPLE, 24 CAMBRIDGE ST., LOWELL.
ON FRIDAY, HER FUNERAL WILL BEGIN AT 12 NOON AT THE TEMPLE. BURIAL IN WESTLAWN II CEMETERY, LOWELL.