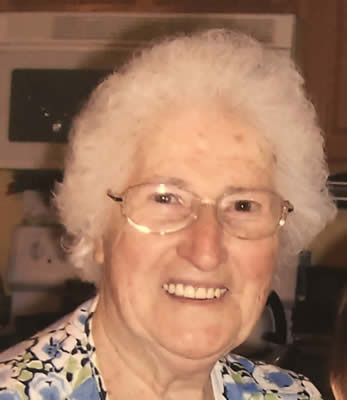 Herminia (Quadros) DeAvila

LOWELL Herminia Ramos (Quadros) De Avila, 97, of Lowell, passed away Monday, December 30, 2019, at the High Pointe Hospice House in Haverhill. She was the beloved mother of the late Joel A. Avila.

A daughter of the late Jose Quadros and the late Rosa (Tomisia) Quadros, she was born April 3, 1922, in Graciosa, Azores, Portugal, and was raised in the area. Herminia married, purchased her home, and had her son, Joel, on the island of Faial. She immigrated to the United States with her family in the early 1960's, settling on Cedar Street in Lowell, MA. Later, Herminia very proudly became a citizen of this country.
She was an incredibly strong, resourceful, and hardworking woman who valued family and friends above anything else. Herminia bought her house soon after coming to the United States and was able to assist numerous family members' immigration into the United States by providing them with a place to stay. She worked several factory jobs and retired from Prince Macaroni in 1985. After retirement she ran a daycare from her home and worked with her son, Joel, in construction. It was not uncommon to see her up on a ladder or carrying lumber around a construction site. Years later, Herminia took care of her two great-great children from the time they were babies until they began school.

She truly loved family gatherings, but would often be seen doing dishes rather than sitting and socializing. She enjoyed playing cards and interacting with the young children and babies at family parties. She also enjoyed attending the senior lunches at the Portuguese American Center (The Blue's Club) where she would socialize with friends and play Sueca. Additionally, Herminia loved going to casinos and would do so any chance she could, often leaving at night and returning early the next morning after playing slot machines for hours. A gentle and generous woman herself, family always got a kick out of how much she enjoyed boxing matches. She also loved watching soccer and the The Wizard of Oz.

Herminia was a well-respected member of the Back Central Street Neighborhood and was a communicant of St. Anthony's Church and a member of the Holy Rosary Sodality.

She is survived by her granddaughter, Katie Robillard and her husband, Scott, of Tewksbury; her great grandchildren, Madison Robillard and Cooper Robillard both of Tewksbury; her sister in law, Maria Bettencourt of Lowell; as well as many nieces and nephews, and great nieces and nephews including the families of Sergio and Belma Reis, Manuel and Maria J. Anjos, (the late) Luis and Maria Reis, Mario and Adriana Reis, Jose Helder Quadros, and Sylvia Kelley.

She was predeceased by her son Joel A. Avila in 1995 and her daughter-in-law Kathleen P. Cullinan in 2006, and her siblings Isaura, Joao, Maria, Manuel, Rosa, Rita, Antonio, Jose, and Argentino.
ON Sunday, January 5th, YOU ARE INVITED TO HER CALLING HOURS FROM 4 UNTIL 8 P.M. ON Monday, January 6th, HER FUNERAL WILL BEGIN AT 9 A.M. AT THE MCDONOUGH FUNERAL HOME, 14 HIGHLAND STREET, LOWELL 978-458-6816. HER FUNERAL MASS WILL BE OFFERED AT ST. ANTHONY CHURCH, 893 CENTRAL ST., LOWELL AT 10 A.M.. BURIAL IN EDSON CEMETERY. E-CONDOLENCE SITE WWW.MCDONOUGHFUNERALHOME.COM.
In lieu of flowers, donations may be made in Herminia's name to Tufts Floating Hospital for Children at https://giving.floatinghospital.org/give.