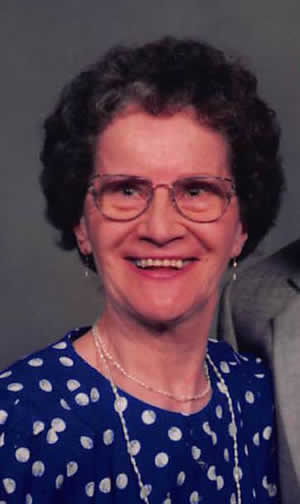 Helena M. (Malyszko) Ciaravolo
    Helena M. Ciaravolo, age 94, passed away peacefully on Sunday, January 7, 2018 at her residence in Billerica Crossings. She was born on Valentine's Day, 1923, in Lowell, the youngest of three daughters of Anthony and Julianna (Dembroski) Malyszko. She attended St. Stanislaus School and graduated from Lowell High School in 1940. A life-long resident of this area, she lived in Lowell until moving to her Chelmsford home in 1963. 50 years later, she moved to Billerica Crossings Assisted Living.
    Before her retirement from USCI in 1988, Helena worked for Bard Critical Care, MacBick, Ideal Tape Company, Breslee Tent Company, and Atlantic Parachute Company.
    She assisted the troops during World War II as a volunteer member of the USO, and met her late husband, Mario F. Ciaravolo, at a dance while he was serving in the U.S. Navy Seabees during WWII. They were happily married for 58 years. She was a devoted care-giver for Mario for many years before he passed away on March 19th, 2005.
    Helena had fun spending time with her family and friends. A beloved wife, mother and grandmother, she was a communicant of the Holy Family Parish in Lowell, and a member of the Holy Family Travelers.  She enjoyed playing cards, Bingo, Pokeno and other activities both as an active member of the Chelmsford Seniors Center and later as a resident of Billerica Crossings. She and Mario loved to dance and travel.  They toured across the country many times including the Pacific Northwest.  They also flew to California, Ohio, Virginia, Hawaii, Alaska, Prince Edward Island and Banff Canada. She was hard-working, full of smiles, generous, warm, courteous, and kind. According to her children, she will be lovingly remembered for her cooking, especially her delicious pierogi and golabki, and her apple pies that delighted Mario for 58 years. 
    She is survived by her daughter, Juliann Johnston and her husband William of Poquoson, VA; her son Francis Ciaravolo and his wife Diane (Dimiduk) of Dayton, OH; three grandchildren:  Paul and Beth Ciaravolo of Dayton, OH, and Amy Ciaravolo of Henderson, NV; six nieces: Barbara Zebroski of Chelmsford, MA, Donna Shanahan of Pelham, NH, Judy Hodkinson of  Nashua, NH, Paula Hodkinson of Sanford, NC, Elizabeth Fisher of Peabody, MA, Ruth Dineen of Framingham, MA; three nephews: Andrew Boumil of Salem, MA, Michael Boumil of Ashland OR, and John Boumil of Groton, MA; her special friend Nancy Russote of Nashua, NH; and long-time good friends and neighbors  Bill and Pat Hamilton. She was predeceased by her husband, Mario; sisters, Mary Boumil and Bertha Kosidlo; sisters-in-law, Frances Hodkinson and Jenny Ciaravolo; and brothers-in-law Andrew Boumil, Anthony Ciaravolo, George Hodkinson, and Peter Kosidlo. The family would like extend their warmest gratitude to the staff and her friends in residence at Billerica Crossings for their care and compassion especially during her final days.

       On Saturday, January 13, you are welcome to attend the visitation from 8 a.m.-10 a.m. at the MCDONOUGH FUNERAL HOME, 14 HIGHLAND STREET, LOWELL, 978-458-6816.
Her Funeral Mass will be offered at Holy Family Parish, 30 Grafton Street, Lowell at 11 a.m. followed by procession to St. Patrick Cemetery.
In lieu of flowers, memorial contributions in Helena's name may be made to Holy Family Parish, 30 Grafton Street, Lowell, MA 01852.