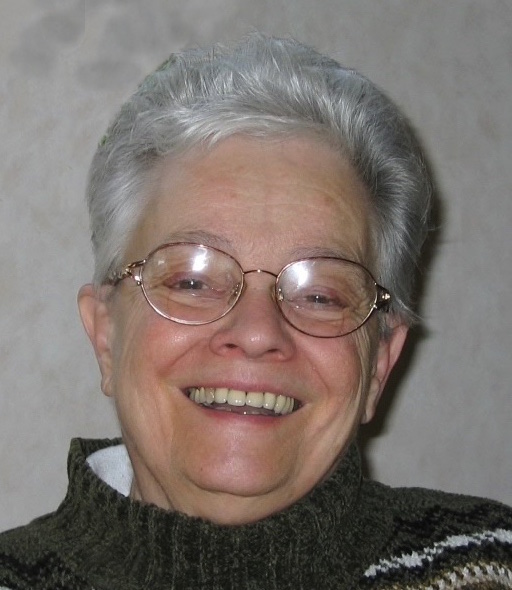 Helen Constance Leite Sanborn, age 88, passed away obtaining peace on January 5, 2017. She was born on November 4th 1928 and eventually met the love of her life Roger. He was taken much too soon, but Helen took comfort that they would eventually be reunited. She worked hard providing for herself in management roles at K-Mart, Cloth World, Mill Fabrics and CVS. Customer Service was her priority and she is still known as "the little lady that worked on Country Club Road at CVS". In the last year of declining health, she worked hard to keep going and was known by caregivers as "a pistol" and a "firecracker". She had a dry sense of humor and was always grateful and appreciative to those who helped her every day.

Helen was proud of her volunteerism for Newborns in Need and for 3 years led a group of seniors who provided stuffed toys for needy babies. But her real passion was for her 3 grandsons, Cameron Sanborn, Andrew Edwards and Matthew Edwards. She took an active role in their youth and "Nana" loved and was loved by them. She made sure she knew what they were doing even into their adult life. She welcomed their friends and loved that they called her "Nana" too. Helen was always a good sport helping her daughter with her rescue projects. Whether feeding abandoned rabbits or hopping in the car to drive 75 miles to deliver an injured goose to a wildlife center, Helen was a great co-pilot and loved to help. She loved to ride to Richmond to see her son George and she tolerated with good humor the music you tube videos, late nights and when he came to visit it was always a joyful time eating out and watching movies. She drove older friends to church, and took great joy in waving and talking to little children that crossed her path. Helen was always telling others Jerry was like a son, not a son-in-law, and his support and compassion during her last year did not go unnoticed by those around her. Helen was proceeded in death by her parents, Belarmino and Violante Leite, sisters Mary Leite Foley and Wilhemina Leite Gouveia. She is survived by her brother John Leite, and his wife Melba, her daughter Connie Edwards and her husband Jerry, her son, George Sanborn and his wife Susan, her 3 grandsons and her great grandchildren Belle and Sam Sanborn. Family was important to her and she loved the annual visits from Donald and Betty Sanborn and John and Leah Foley who took time to come visit each year. She enjoyed her brother's weekly calls where they would argue about politics, sports or even the color of the sky. They were siblings, friends and shared a love of music. She was proud of his music and took every opportunity to brag about his talents. Helen never saw herself as old and when diagnosed with Alzheimer's, she told her daughter to go out and buy her some books so she could start learning again. She was an amazingly strong woman, a mother, a Nana, a fighter and yes, a pistol and a firecracker. She will be missed but will live on in our memories and hearts.

YOU ARE INVITED TO HER VISITATION, AND FUNERAL SERVICE AT THE MCDONOUGH FUNERAL HOME, 14 HIGHLAND ST, LOWELL, MA 01852, 978-458-6816. HER VISITATION WILL TAKE PLACE ON FRIDAY, JANUARY 13, FROM 10 A.M. UNTIL 12 P.M. IN ACCORDANCE WITH HER WISHES, THE CASKET WILL BE CLOSED. FOLLOWING THE VISITATION, HER FUNERAL SERVICE WILL TAKE PLACE IN THE FUNERAL HOME AT 12 P.M. BURIAL IN ST. MARY CEMETERY.