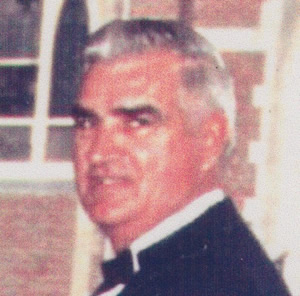 Gilbert J. (Huck) Finneral Jr.
Gilbert J. (Huck) Finneral Jr. (80) died suddenly in the early morning on 12-14-13. He was born in Lowell Massachusetts on July 17, 1933, the son of the late Gilbert J. Finneral Sr. and the late Julia (Finneral) Fox. He was a communicant of the Shrine of St. Rita in Lowell, Mass. and now to the Parish of the Resurrection in Nashua, NH. Gilbert received his early education at St Peter's Elementary School and graduated from Keith Academy in Lowell, Mass. Gilbert was a veteran of the Korean conflict in the U.S. Army 24th Infantry Division. Pvt Finneral was a rifleman in company F of the 19th Infantry regiment in July 1953 and arrived overseas in May of 1953.
Gilbert was a longtime lineman for Mass. Electric for which he was employed for 38 years. Gilbert was a member of Union local 326 and served as Vice President and as the Safety Representative of the Union, and also Representative to the Lowell Central Labor COuncil. He was also involved in the P.Y.O baseball League and with Troop 7 Boy Scout's of St. Jeanne D'Arc.
Gilbert is survived by his wife Cecile (Desharnais) Finneral, two daughters; Linda Toupin (deceased due to Leukemia) her husband Michael Toupin and their two children Michele and Dianne of Lowell, Mass,; Dr. Karen Scott her husband Brian Scott and their two children, Adam Scott and Ashley Scott of Nashua, NH; three sons; David Finneral and his wife Robin (Butler) Finneral of Nashua, NH,; Daniel Finneral of Salem, NH and Kevin Finneral of Hudson, NH. Gilbert is also survived by his sister Helene Finneral and his brother John (Jack) Finneral both of Lowell, Massachusetts. Gilbert was highly Respect and well liked in the community, he will be greatly missed.
YOU ARE WELCOME TO ATTEND HIS VISITATION ON WEDENSDAY FROM 10 A.M. UNTIL 1 P.M. AT THE MCDONOUGH FUNERAL HOME, 14 HIGHLAND STREET, LOWELL, MA 01852, 978-458-6816. FOLLOWING THE VISITATION HIS FUNERAL SERVICE WILL BE HELD IN THE FUNERAL HOME AT 1P.M. BURIAL WILL TAKE PLACE IN ST. PATRICK CEMETERY.