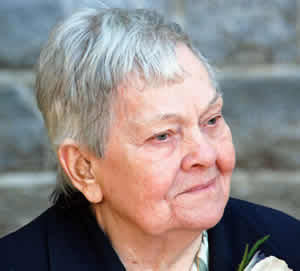 Gervaise G. Richards
LOWELL Gervaise G. (Carrier) Richards, 89, of Lowell, died peacefully on Monday, May 4, 2009, at Radius Northwood Health Care Center surrounded by her loving family. Even with the onset of breast cancer and the need for hospice care in her later years, she happily spent the last three years in assisted living at Chelmsford Crossings in Chelmsford MA, where she leaves many friends with the residents and the staff. She was the widow of the late Edward J. Richards who died in 2004, with whom she spent a wonderful life and 59 years of marriage.
Born Marie Gertrude Gervaise Carrier on March 4, 1920, in Plessisville, Quebec, Canada, she was the youngest of nine children of the late Gedeon and the late Josephine (Ferron) Carrier. In 1923 her family emigrated to the United States and she was raised and educated in Amesbury, MA. After High School, she graduated from St. Joseph's Hospital School of Nursing in Lowell in 1942 as a Registered Nurse. After a 20 year span to raise her family Gervaise returned to work at St. Joseph's Hospital from 1966 until her retirement in 1982. She often said that being a nurse, and working at the hospital where she trained was the highlight of her life. Throughout her long life she always cared for others, and during her working years and beyond she continued to look after and care for many family members, including most recently the residents at Chelmsford Crossings. She always offered a warm smile and a helping hand for anyone in need.
A member of Holy Family Parish at Ste. Marie's Church, she enjoyed spending time with her family, particularly the summers at Salisbury Beach, her active participation in the band boosters club for the Sacred Heart Band; and traveling throughout the USA and Canada by motor home with her husband and family.
She was a loving mother to her four children and their families; her sons; Edward W. Richards and his wife, Bernice; Jedd J. Richards and his wife, Janet; Brian P. Richards and his wife, Paula, all of Windham, NH; and a daughter; Susan L. Richards and her husband, Rudolf Gautschi, of Charlestown; seven grandchildren; and many nieces and nephews.

AT HER REQUEST, CALLING HOURS HAVE BEEN OMITTED AND CREMATION TOOK PLACE PRIVATELY. THE FAMILY REQUESTS THAT MEMORIALS IN HER NAME SHOULD BE SENT TO THE: ST. JUDE SHRINE, 1909 S. ASHLAND AVE., CHICAGO, IL 60608.
ALL FAMILY AND FRIENDS ARE INVITED TO ATTEND A MEMORIAL MASS WHICH WILL BE HELD ON SATURDAY, MAY 9TH AT 9AM AT HOLY FAMILY PARISH AT STE. MARIE'S CHURCH, 75 CHAMBERLAIN ST., LOWELL, MA 01852.