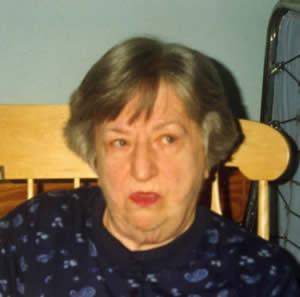 Gertrude M. Tobin
"Beloved Aunt, Grand Aunt, and Great-Grand Aunt"

LOWELL Gertrude M. Tobin, 89, of Lowell, died peacefully Thursday, June 28 at Wingate of Belvidere.
Born in Lowell on September 29, 1922, she was the daughter of the late William and Mabel (McLean) Tobin. She was educated in Lowell and was gifted scholar, having graduated from Lowell High School as a Carney Medal recipient. She worked at GTE Sylvania as a payroll clerk for many years before her retirement.

Gertrude was a longtime communicant of St. Michael's Church. She was regarded as a matriarch figure and beloved caretaker of her grandnieces and grandnephews. She was an avid fan of the local sports teams, especially the Boston Red Sox and New England Patriots.

She is survived by a niece and 3 nephews; Rosemary Breen of Lowell, Alexander Tobin and his wife, Geraldine of Chelmsford, John Tobin and his wife, Diana of Nashua, NH and George Tobin and his wife, Anne of Newton-Chestnut Hill. She is also survived by her grandnieces and grandnephews, Joe Breen of Lowell, Casey Tobin of Nashua, Ryan, Nickolas, William, Katie and Emily Tobin all of Newton, Paul Premo of Townsend, Joanne Premo of Salem, NH, Sharon Cox of Torrance, CA; her grandnephew, William Tobin of Orlando, FL; grandniece, Estelle Tobin of Orlando, FL; and 6 great grandnieces and nephews.

She was also a sister of the late Rita Cote and the late William Tobin, sister in law of the late Estelle Tobin, aunt of the late William Tobin and aunt in law of the late Joseph P. Breen.

Her family is very grateful for the care and compassion she received from the staff at Wingate of Belvidere over the course of her time living there and for the loving support of the rest of the Breen family.

YOU ARE INVITED TO HER CALLING HOURS ON MONDAY MORNING FROM 8 UNTIL 9:15 A.M. AT THE MCDONOUGH FUNERAL HOME, 14 HIGHLAND STREET, LOWELL 978-458-6816. IMMEDIATELY FOLLOWING HER VISITATION, HER FUNERAL MASS WILL BE OFFERED AT ST. MICHAEL'S CHURCH, ON THE CORNER OF 6TH STREET AND BRIDGE STREET AT 10 A.M. FOLLOWED BY A PROCESSION FOR HER BURIAL AT ST. PATRICK CEMETERY, ON GORHAM STREET, IN LOWELL.