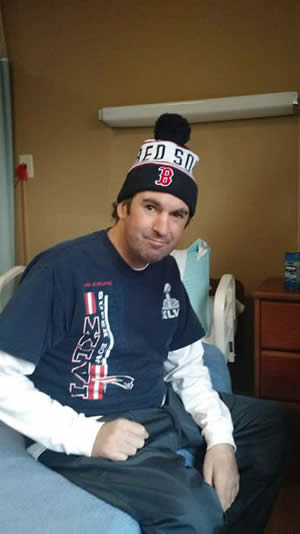 Gary A. Duarte
TEWKESBURY Gary A. Duarte, 39, of Tewksbury, passed away Monday, September 7, 2015, at Lowell General Hospital from a long illness. He was the beloved son of Goldie (Duarte) Gizzi.
Born August 28, 1976, in Chelmsford, he grew up in that area, graduating from Chelmsford High School, Class of 1995.
Gary enjoyed sports, especially football and baseball. He was a natural athlete and was a National Track Champion in his younger days, running 1500 Meter and the 3000 Meters, winning the Gold Medal in National Championships. His was nicknamed 'Double Duty Gary' by the Lowell Sun due to his running prowess. He was a very compassionate person and was fond of spending time with his family, especially his beloved mother, Goldie, by whom he will be sorely missed.
Formerly of Chelmsford, he more recently made his home in Tewksbury, and worked for the City of Lowell Cemetery Department for six years.
Besides his loving mother, he is survived by his brother, Dustin DeLorme of North Kingston, RI; his sisters, Lindsay DeLorme of Tewksbury, and Jade Gizzi of Tewksbury; his best friend, Ned Tarmey of Lowell; his nephew, Luke Draper of Tewksbury; his uncles, Dennis Duarte of Lowell, and Bradford Duarte of the Philippines; and many cousins.
He was also the grandson of the late Ethel Maciejewski.
YOU ARE INVITED TO HIS VISITATION 10 UNTIL 12 NOON ON FRIDAY MORNING AT THE MCDONOUGH FUNERAL HOME, 14 HIGHLAND STREET, LOWELL 978-458-6816. HIS FUNERAL SERVICE WILL BE HELD AT 12 NOON AT THE FUNERAL HOME FOLLOWING THE VISITATION. BURIAL IN ST. PATRICK CEMETERY.