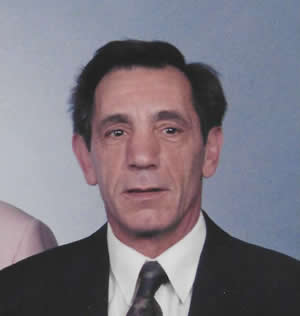 Gabriel E.  Duarte
Active in the community, proud citizen.

LOWELL      Gabriel E. Duarte, 82,  passed away February 24, 2020 surrounded by his family after a long battle with dementia.   He was married to Barbara (Freitas) Duarte, with whom he just celebrated their Fifty Ninth Wedding Anniversary last week on February 21, 2020.

        Gabriel was devoted to both his family and God.  Before his illness, he was an usher at both St. Anthony's Church and St. Joseph the Workers' Shrine.

         He was born on June 12, 1937 in Graciosa, Azores.  He emigrated to America on Christmas Eve 1954 at the age of 17.  He took pride in all of his accomplishments within the first five years living in Lowell - getting his first job, learning English, buying a multi-family home with his brother for his mother and family to reside, getting his driver's license and most importantly becoming a Naturalized American Citizen which enabled him to vote for the first time.  

         Gabe was a hard worker and was always willing to help his siblings, his children, his friends, and his neighbors when needed, expecting nothing in return.  He even made sure he fed the birds in winter.  He also sponsored many families from the Azores through the International Institute to come to America and helped in securing them jobs.

       When his grandchildren were in soccer he was always at their games cheering them on.   He loved being outdoors taking early morning walks.  He loved gardening and maintaining his pristine lawn.  Once he was all 'caught up' on his yard work, he would head to a race track - a passion of his since his first experience of winning at Rockingham Park.

       Vacations were planned around either horse tracks or dog tracks from New England to Florida.  Eventually he became an owner of greyhounds that raced in Massachusetts and New Hampshire.

      Gabriel became a member of the Portuguese American Civic League, the Red's Club, shortly after arriving to Lowell.   As years passed, he was a manager and a President of the Club as well as a Representative of the Club to Regional Conventions.  He was also on  the committee for the Feast of Loreto at the Holy Ghost Park.  In addition  he volunteered to help the Friends of Lowell High School with their fundraisers at the High School, Cawley Memorial Stadium, and the Tsongas Arena.

        Mr.  Duarte worked in the area shoe factories before working as an expediter for Raytheon Corporation, retiring in 1999, enjoying retirement with Barbara.  Before his illness, he enjoyed driving to the Casinos in Connecticut mostly for the Off Track Betting.

       In addition to his beloved wife Barbara, he is survived by his children, Melissa B. Duarte and her companion, Charles Razumny, of Lynnfield, MA, Jeffrey J. Duarte and his companion, Carie Grohs, of Lowell, and Heidi D. Duarte and her companion, Jason Demers of Lowell; his grandchildren, Kayla Duarte and her companion, Bruce Burgos, Zachary Duarte and his fiance, Stephanie Ataide, Tyler Duarte, Breanna Duarte, and Shane Duarte all of Lowell;
his great grandchildren, Caiden, Bellah, Javian, Franki, Julianna, and Malia; his brothers, Orlando Duarte and his wife, Mary of Andover, and John Espinola and his wife, Barbara, of Tennessee; his brothers and sisters in law, Francelina Duarte of Chelmsford, Patricia and Joseph Camara of Lowell, and Josephine Dowd of Springfield; as well as his best friend, Tony Vallante of Danvers and many nieces,nephews, cousins, great nieces and great nephews.

     He was also a brother of the late Joseph Duarte, the late Antonio Duarte and his wife, Odelia, the late Eurico Duarte and his wife, Gabriella, and brother in law of the late Joseph Dowd.

         YOU ARE INVITED TO HIS CALLING HOURS 4 UNTIL 8 P.M. ON FRIDAY.  
ON SATURDAY, HIS FUNERAL WILL BEGIN AT 9 A.M. AT THE MCDONOUGH FUNERAL HOME, 14 HIGHLAND STREET, LOWELL 978-458-6816. 
HIS FUNERAL MASS WILL BE OFFERED SATURDAY AT ST. ANTHONY'S CHURCH, 893 CENTRAL STREET, LOWELL AT 10 A.M..  BURIAL IN ST.  MARY CEMETERY.  
IN LIEU OF FLOWERS, MEMORIALS IN HIS NAME TO ALZHEIMER'S ASSOCIATION OF MASSACHUSETTS/NEW HAMPSHIRE, 309 WAVERLEY OAKS ROAD, WALTHAM MA  02452.