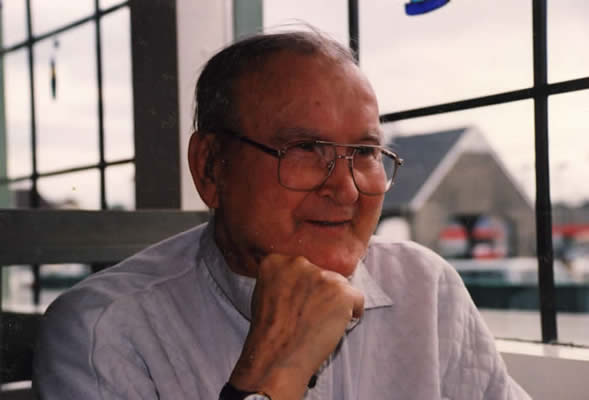 Franklyn Malcom Watts
"World War II Naval Aviator"

NASHUA NH Franklyn Malcom Watts passed away at his home in Nashua, New Hampshire on February 5, 2012. He was born on September 2, 1926 to John F. Watts and Anne (Colquhoun) Watts Bell Belair in Boston, MA.

After graduating from Lowell High School in 1944, Mr. Watts served as a United States Navy pilot during World War II in the South Pacific. After the War, he started a home building business in Central Massachusetts. For many years, he worked as a facilities engineer/manager at Harvard University, Holy Family Hospital, the Dunfey Hotel's Parker House in Boston and Shoreham Hotel in Washington, DC, and the Sheraton Tara and Clarion Hotels in Nashua, NH.

Mr. Watts was the husband of the late Alice B. Watts who passed away in September 2006. Mr. Watts and his wife, Alice, were the parents of two children. He is survived by his son, David M. Watts and his wife, Lucelena, and his daughter, Barbara A. Gorski, and her spouse, Brian. He was also the father of Cynthia M. Morina, and step-father of Steven Joncas. He is survived by his brother, George E. Watts, and his friend, Liz Welch, of Melbourne, FL, and his sister, Barbara Johnston, and her husband, Mack, of Bethesda, MD. He also leaves behind his sister-in-law, Maryann Watts, and his dear cousin, Edna Doyle. He was the brother of the late Robert and John F. Watts and brother-in-law to the late Geneva and Margaret Watts.

Mr. Watts greatly enjoyed his ten grandchildren, Allison, Matthew, and Sarah Gorski, Hope, Faith, and Benjamin Watts, Skye Kustra, Aaron and Philip Joncas, and Joseph Morina, and two great grandchildren, Jalen and Aaron Joncas.
He also leaves behind his friends, James Michael Rosano, Fred Carazzo, and Martin Fabien..

YOU ARE INVITED TO HIS MEMORIAL VISITATION ON SATURDAY, FEB. 11, FROM 11 A.M. UNTIL 12 NOON AT THE MCDONOUGH FUNERAL HOME, 14 HIGHLAND STREET, LOWELL (978 OR 800) 458-6816. HIS FUNERAL SERVICE WILL BE HELD AT 12 NOON AT THE FUNERAL HOME.MEMORIALS IN HIS NAME TO VNA HOSPICE OF GREATER LOWELL, 336 CENTRAL ST., LOWELL MA 01852. E-CONDOLENCE SITE WWW.MCDONOUGHFUNERALHOME.COM