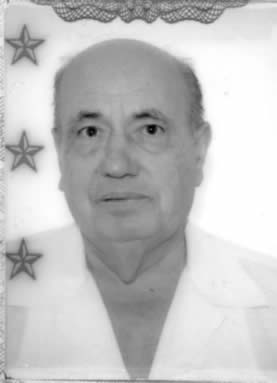 Francisco Espinola Mendonca

LOWELL Francisco Espinola Mendonca, 83, of Lowell, died Thursday, May 6, 2010, at Radius Northwood Health Care Center after a brief illness. He was the husband of Irzelina (Santos) Mendonca, with whom he would have celebrated their 47th Wedding Anniversary this coming May 30.

Born February 24, 1927, in Graciosa, Azores, Portugal, he was educated in that area before moving to Terceira where he worked as an Electrician. He also owned his own automotive electrical shop.

In 1969, he came to the United States, settling in Cambridge where he lived until moving to Lowell in 1974. He made his home in the Back Central Street neighborhood, and was a communicant of St. Anthony's Church, and a member of the Holy Trinity. He enjoyed spending time with his family at home, and enjoyed watching television, especially the Portuguese Channel.

His first job in the United States was as an electrician for Precision Motors in Somerville, after fifteen years with them, he became a mechanical assembler for Wang Laboratories in Lowell, retiring after six years in 1992.

In addition to his wife, Irzelina, he is survived by his sister, Maria Lurdes Mendonca of Somerville; his brothers, Jorge Mendonca and his wife, Aldina, of Lynn, Antero Mendonca and his wife, Maria L., of Somerset, and Jose Mendonca and his wife, Rosalina, of Lowell; his sister in law, Idalina Mendonca of Somerville; his three Godchildren, Fernando Mendonca of Tyngsboro, Steve Mendonca of Somerville, and Manuela Mouro of Terceira, as well as many nieces, nephews, and friends.

He was also a brother of the late Manuel Mendonca and his wife, the late Paulina Mendonca, and the late Raul Mendonca. He was also son in law of the late Alberto Silva and the late Luiza Augusta Silva.

YOU ARE INVITED TO HIS CALLING HOURS 4 UNTIL 8 P.M. ON SUNDAY, MAY 9. ON MONDAY, HIS FUNERL WILL BEGIN AT 9 A.M. AT THE MCDONOUGH FUNERAL HOME, 14 HIGHLAND STREET, LOWELL 978-458-6816. HIS FUNERAL MASS WILL BE OFFERED AT ST. ANTHONY'S CHURCH AT 10 A.M.. ENTOMBMENT IN ST. MARY'S MAUSELEUM IN LAWRENCE. E-CONDOLENCE SITE WWW.MCDONOUGHFUNERALHOME.COM