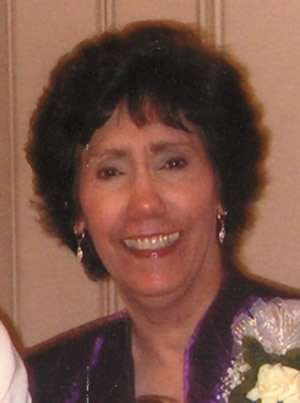 Evelyn R. (Gomes) Hazel
BILLERICA Evelyn R. (Gomes) Hazel, 65, of Billerica, died unexpectedly, Saturday, November 22, 2008 at Saints Medical Center, in Lowell. She was the wife of Duncan T. Hazel.
Born June 26, 1943, in Lowell, she was a daughter of the late Anthony R., and the late Mary (Duarte) Gomes, attended St. Patrick's School, and graduated from Dracut High School. She then attended Tewksbury Hospital School of Nursing, where she received her LPN, and continued schooling at Middlesex Community College receiving her RN.
She resided in Billerica, and was a communicant of Saint Anthony's Church and lifelong member of the choir. She was employed as a nurse in the Greater Lowell area for over forty years, working for several hospitals including the former St. John's Hospital, and more recently at the practice of Dr. Lawrence M. Newman, in Billerica, for over fifteen years before her retirement . She was a member of the Red Hat Society, the Tewksbury Historical Society, the Tewksbury Hospital Nursing Alumni, and the Saint Anthony's Holy Rosary Sodaility. She enjoyed cooking, traveling and spending time with her family, especially her grandchildren.
Besides her husband, Duncan, she is survived by three sons, David Hazel and his wife Camille, of Bedford, NH, formally of Tewksbury, Michael Hazel and his wife, Kathryn, of Chelmsford, and Mark Hazel and his wife, Anne, of Lowell; a daughter, Laurie Ann Schena and her husband, Blaine, of Naples, FL; five grandchildren, Stephen, Mary-Kathryn, and Kevin Hazel, and Vanessa and Kendra Schena; two sisters, Bea Cunha and her husband Joseph J. Cunha, of Dracut, and Rose Mary Vervaert and her husband, Lou, of West Simsbury, CT; two brothers, David A. Gomes and his wife, Susan, of Lexington, and Anthony R. Gomes Jr. and his wife, Ethel, of Littleton; a brother in law, Raul Gomes, of Dracut; two sisters in law, Sarah Jane Paquette, and Barbara Ann Voulgaris, both of Lowell; and many nieces, nephews, great nieces, great nephews, cousins, and many close friends.
She was also the sister of the late Mary A. Gomes, who passed away in 2004.

YOU ARE INVITED TO HER CALLING HOURS 3 UNTIL 8 P.M. ON TUESDAY.
ON WEDNESDAY, HER FUNERAL WILL BEGIN AT 8 A.M. AT THE MCDONOUGH FUNERAL HOME, 14 HIGHLAND STREET, LOWELL (978 OR 800) 458-6816.
HER FUNERAL MASS WILL BE OFFERED AT ST. ANTHONY'S CHURCH AT 9 A.M..
BURIAL IN ST. MARY CEMETERY, TEWKSBURY.
IN LIGHT OF HER SERVICE IN NURSING TO THE COMMUNITY, DONATIONS IN HER HONOR MAY BE MADE TO THE VISITING NURSE ASSOCIATION OF GREATER LOWELL AND HOSPICE, POST OFFICE BOX 1965, LOWELL, MA 01853.