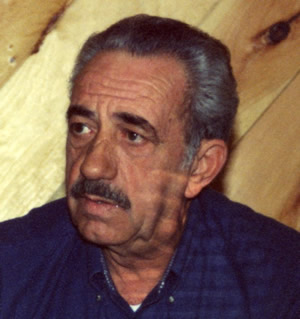 Eugene L. "Gene" D'Arezzo
Eugene L. "Gene" D'Arezzo, 76, a lifelong Lowell resident, died after a long battle with cancer, Saturday, May 30, 2009. He was the widower of Joan (LaDuke) D'Arezzo who passed away in December of 2007 after 54 years of marriage.
Born September 12, 1932, in Lowell, he was a son of the late Amerigo D'Arezzo, and the late Gertrude (Williams) D'Arezzo. He was educated in the Lowell School System.
Mr. D'Arezzo served with the United States Navy aboard the USS Pittsburgh during the Korean War.
For many years prior to his retirement in 1995 from UMass Lowell, he was employed in the construction field as a pipefitter/plumber. Mr. D'Arezzo was an avid salt water fisherman, he enjoyed gardening, local politics, and in addition he loved watching boxing.
He is survived by his 4 children, Joseph D'Arezzo and his wife, Vanessa, of Plaistow, NH, Deborah Muldoon and her husband, Robert, of Tewksbury, Susan D'Arezzo of Tewksbury and Gina Baney and her husband, Michael, of Nashua, NH; a sister, Doris Scuito and her husband, Alfred, of North Andover; 2 brothers, Joseph "Bob" D'Arezzo amd his wife, Tomasa, of New Mexico, George D'Arezzo and his wife, Evelyn, of Dracut; 4 grandchildren, Dina Muldoon of Tewksbury, Krista Curry and her husband, Benjamin, of Lowell, Christopher D'Arezzo and Kelly D'Arezzo both of Plaistow, NH; 3 brothers in law, Wilbur LaDuke and his wife, Susan of Dracut, Roy LaDuke and his wife, Eileen, of Dracut, George LaDuke and his wife, Dora, of Florida. He is also survived by many nieces and nephews.
He was the brother of the late Joan Brooks.
FAMILY AND FRIENDS ARE INVITED TO PAY RESPECTS ON TUESDAY MORNING FROM 9 UNTIL 10 A.M. FOLLOWED BY HIS FUNERAL SERVICE AT THE MCDONOUGH FUNERAL HOME 14 HIGHLAND STREET LOWELL (978) 458-6816. PROCESSION TO FOLLOW FOR BURIAL IN ST. MARY CEMETERY TEWKSBURY. IN LIEU OF FLOWERS MEMORIALS MAY BE MADE IN HIS NAME TO THE LOWELL GENERAL HOSPITAL CANCER CENTER, 295 VARNUM AVE., LOWELL, MA 01854 OR TO THE KITTY ANGELS, PO BOX 638, TYNGSBORO, MA 01879.