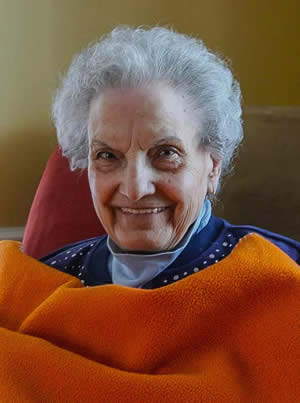 Elnora Ramos

LOWELL       Elnora (Goulart) Ramos, 91 of Lowell, passed away Sunday, April 5, 2020 at Northwood Healthcare Center. She was the beloved wife of the late Jose E. Ramos who passed away in 1993.

    She was born on October 24, 1928, in Faial, Azores, Portugal and came to the United States in 1959, settling in Lowell, first on Cedar Street, then Chapel Street, then Ware Street, and then Merrimack Ave in Dracut. A former communicant of St. Anthony's Church, she enjoyed singing in the choir at St. Anthony's and was also a Eucharistic Minister for the church, visiting members of the Parish who were confined to their homes due to illness, giving the Sacrament of Communion.  She was a current member of St. Francis Church in Dracut, she was also a member of the St. Francis Widows' Group and a former member of the Holy Ghost Society.

    Elnora enjoyed time spent with her family and friends, and with her husband had enjoyed their traveling together, especially to Ogunquit, Maine. She had worked for Honeywell in Lowell for five years before becoming affiliated with MA/COM in Burlington as an assembler, retiring after fifteen years of service.

    She is survived by her daughters, Lusa L. (Ramos) Belliveau and her husband, Francis, of Milford, MA, and Dora M. (Ramos) Taborda and her husband, Aristides, of Clermont, FL; her grandchildren, Lori (Belliveau) Willis, Adam Belliveau, Eric M. Taborda and his wife, Melissa Laferriere Taborda, and Brian M. Taborda; and her great grandchildren, Gwen Willis, Hollie (Taborda) Boisvert, Nicholas M. Taborda, and Dylan M. Taborda. She is also survived by her nieces and nephews, Joao A. DaSilva and his wife, Kathy, Alda Rocha, Estela McClean, Elizabeth Rocha, Jasmine Hamilton, and Kristina Perrin; as well as her close friends for years, Maria Fatima Mendonca, Jeanne Page Keaton, and Angela Mendonca.

    She was also the sister of the late Maria DeLourdes Silva.

    DUE TO MA STATE REGULATIONS DURING THE COVID-19 PANDEMIC, BURIAL TOOK PLACE PRIVATELY. 
A PUBLIC MEMORIAL WILL BE HELD AT A LATER DATE AND WILL BE ANNOUNCED ON THE MCDONOUGH FUNERAL HOME FACEBOOK PAGE AND WEBSITE. 
ARRANGEMENTS BY THE MCDONOUGH FUNERAL HOME, 14 HIGHLAND STREET, LOWELL, MA 978-458-6816.