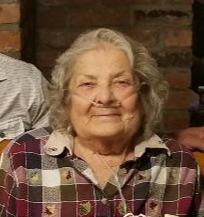 Eleanor Patricia 'Pat' Fiorello

ASHLAND Eleanor Patricia 'Pat' (Lamb) Fiorello, 85, of Ashland, passed away peacefully, Sunday, August 30, 2020, at Framingham Union Hospital after a brief illness. She was the widow of the late Frederick V. Fiorello who died in 1999 after thirty five years of Marriage.

A daughter of the late Winthrop J. Lamb and the late Susan V. (Matuck) Lamb, she was born October 24, 1934, in Lowell, and was educated in the local schools, graduating from Lowell High School.

She made her home in Lowell for many years before moving to Ashland where she was a member of the Senior Center. She was an avid golfer and past member of the Pine Valley Country Club in Pelham, NH. She enjoyed gardening and her many pets, but her most cherished pastime was spending time with her family.
Eleanor worked for twenty five years for the MBTA as a clerk prior to her retirement.

She is survived by her sons, Len Fiorello and his wife, Amy of Ashland, and Raymond F. Fiorello and his wife, Darlene (Salome) of Lowell; her grandchildren, David R. Fiorello and his wife, Tina (LaCreta) of Tewksbury, Lynn A. Moustafa and her husband, John of Brookline, NH, Thomas Peak and his wife, Sarah (Cochrane) of Maynard, and Joseph V. Fiorello and his wife, Barbara (Fandel) of Hudson, and Emma and Nicholas Pignone of Ashland; her great grandchildren, Nicole Porter and her husband, Ralph, and Danielle Moustafa both of Brookline, NH, and David Fiorello and Amanda Fiorello both of Tewksbury; her great-great grand daughter, Hailey Porter; and several nieces and nephews.
She was also predeceased by her siblings.
WHILE FOLLOWING SOCIAL DISTANCING GUIDELINES AND WEARING A MASK, ON TUESDAY, SEPTEMBER 8, 2020, YOU ARE INVITED TO HER CALLING HOURS FROM 8-11 A.M. AT THE MCDONOUGH FUNERAL HOME, 14 HIGHLAND STREET, LOWELL, MA 978-458-6816.
HER FUNERAL SERVICE WILL TAKE PLACE PRIVATELY FOLLOWING THE CALLING HOURS.
BURIAL WILL BE HELD PRIVATELY AT A LATER DATE.