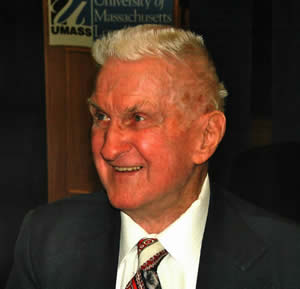 Dr. Ignatius A. 'Jim' Ciszek
CHELMSFORD Dr. Ignatius A. 'Jim' Ciszek, 91, of Chelmsford, passed away after a brief illness, Sunday, February 7, 2016 at his home. He was the husband of the late Florence Katherine (Solazzo) Ciszek who passed away in June of 2015 after 70 years of marriage. Jim is survived by many beloved nieces and nephews.
Jim was born on July 17, 1924 in Lowell and was the youngest son of the late Jan (John) and the late Anna (Kalemba) Ciszek. He was predeceased by all of his siblings.
He was raised in Lowell where he attended the area schools, graduating from Lowell High School. He earned his Bachelors Degree in physical education from Arnold College in 1950 and his Masters Degree in physical education from Boston University in 1952. Jim also then went on to earn his PhD in physical education from Boston University in 1968.
Dr. Ciszek served with the United States Navy during World War II until his honorable discharge. He resided in Chelmsford for many years and was a communicant of Holy Trinity Church in Lowell.
Jim was named the Director of Athletics following the merger of Lowell Technological Institute and Lowell State College in 1975. Throughout his career he served as an educator, coach and administrator for 32 years (21 years at Lowell State College and 11 years at ULowell), during which time he oversaw the University's 27 sports before retiring in 1986. Dr. Ciszek served as the baseball coach for several years between 1954-1974; men's basketball coach between 1954-1966; and golf between 1967-1970. He was inducted into the Lowell High School Athletic Hall of Fame and UMass Lowell's Athletic Hall of Fame.
Jim was also very active outside the University. He was a member of the International Association of Approved Basketball Officials for 25 years, and also served on the Greater Lowell Local Board 95 as president, vice president, interpreter and executive committee member.

AT HIS REQUEST, CALLING HOURS WERE OMITTED AND HIS FUNERAL WAS HELD PRIVATELY.
IN LIEU OF FLOWERS, DONATIONS MAY BE MADE TO THE UMASS LOWELL ATHLETIC DEPARTMENT, COSTELLO ATHLETIC CENTER, 1 UNIVERSITY AVE., LOWELL, MA 01854.