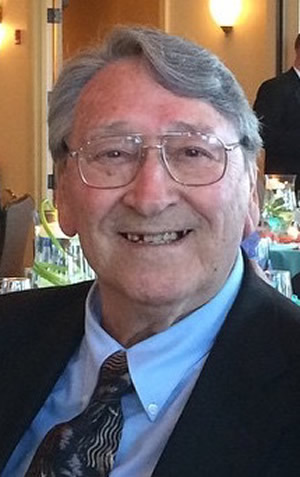 CHELMSFORD Donald Ray Baker, 87 of Chelmsford, passed away on Tuesday, November 26, 2019 at High Pointe Hospice House in Haverhill. He was the husband of the late Denise Jean (Gys) Baker, who passed away 13 days prior to Donald's passing. They were married on Valentines Day in 1987 and spent the last 32 years together.

He was born in Dover, TN on October 16, 1932 and was a son of the late Minus Baker and the late Agnes (Newbury) Baker. He attended the undergraduate program at Yale University, before obtaining his Master's Degree at the University of Maryland.

Mr. Baker proudly served with the United States Air Force during the Korean Conflict and the Vietnam War until his honorable discharge.

He resided in Chelmsford and enjoyed studying philosophy, writing, listening to music, story telling, and golfing. In his younger days, he was a basketball player and was often Captain of many of the teams he played for, and will be remembered as 'Bucket Baker' for many years.  Although he had many passions throughout his life, spending time with his family brought him the most happiness.

Donald worked as a Cryptologic Intelligence Analyst for the National Security Agency at Hanscom Air Force Base for many years before his retirement.

He is survived by his three daughters, Kia Gary of Dallas, TX, Deidre Baker of Phoenix, AZ, Jenna Baker of Chelmsford, MA; and his siblings, Steadman Baker, Thurman Baker and Janice McClure all of Kentucky. He is also survived by his brothers in law, Joseph Gys and his wife, Maureen, of Lowell, Michael Gys and his wife, Sue, of Lowell, and Kenneth Gys and his wife, Deme, of Dracut; as well as several nieces and nephews and many close friends.
In addition to his parents, he was predeceased by his siblings, the late Jerry Baker and the late Linda Lynn.
AT HIS REQUEST, FUNERAL SERVICES WILL BE HELD PRIVATELY. ARRANGEMENTS BY THE MCDONOUGH FUNERAL HOME, 14 HIGHLAND STREET, LOWELL, MA 978-458-6816.