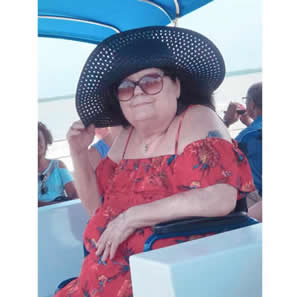 Diane P. Atwood

LOWELL        Diane P. Atwood, 69, of Lowell, passed away Thursday, February 6, 2020, unexpectedly with her beloved family by her side. She was a daughter of the late Robert T. and the late Delima 'Del' R. (Soucy) Atwood.

     Born June 23, 1950, in Lowell,  she was raised and educated in the City, graduating from Lowell High School. She made her lifelong home in Lowell.

       She worked as a Nurses' Aid at the Edith Nourse Rogers Veteran's Hospital in Bedford for five years before an accident forced her early retirement. She then worked as a Secretary with the Lowell Housing Authority for many years at the Community Center.

     Her survivors include her daughter,  Tammy Jo Croteau and her boyfriend, Alcides Santiago, of Lowell; her grandchildren, Brittany Croteau and her fiancé, Carmen Rodriguez-Duclet of Lowell and Christian Croteau of Lowell; her siblings, Donna Richardson Levesque and her husband, Bob, of Dracut, and Dorothy Atwood of Chelmsford and Calvin Atwood of Lowell; her nieces and nephews, Tarsha DeJesus and her husband, Hector, of Dracut, David Rivera and his wife, Desiree, of Dracut, Shaundele Atwood of Lowell and Robert Atwood and his wife, Katie, of Lee, NH, Jade Butanda and her husband, Jose of Georgia, and many grandnieces and grandnephews.

       In addition to her parents the late Delima R. Atwood and the late Robert T. Atwood, she was predeceased by her sibling, the late Robert A. Atwood, and she was mother in law of the late Kevin Croteau and grandmother of the late Diana Delima.

        AT DIANE'S REQUEST, CALLING HOURS HAVE BEEN OMITTED AND HER FUNERAL TOOK PLACE PRIVATELY. ARRANGEMENTS BY THE MCDONOUGH FUNERAL HOME, 14 HIGHLAND STREET, LOWELL 978-458-6816. 
MEMORIALS IN HER NAME TO CAN BE MADE TO https://www.gofundme.com/f/funeral-expenses-for-diane-p-atwood?utm_source=customer&utm_medium=copy_link&utm_campaign=p_cf+share-flow-1