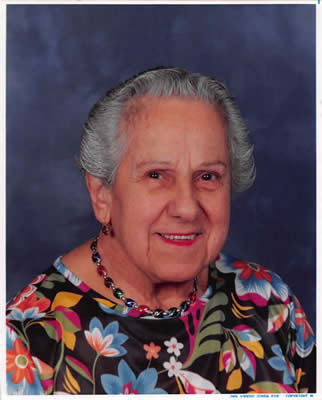 Diamantina (Fernandes) Freitas
LOWELL Diamantina (Fernandes) Freitas, 98, of Lowell, died after an unexpected illness Thursday, April 15, 2020 at D'Youville Senior Health Care Center. She was the widow of August Freitas who passed away in 1982.

She was born June 24, 1921 in Lowell. She was the daughter of the late Faustino and the late Virginia (Fernandes) Gouveia. She grew up in Lowell and attended the local schools.

She was a lifelong resident of Lowell's Back Central Street Neighborhood. She was a communicant of Saint Anthony's Church, a member of the Holy Rosary Sodality and a member of the Holy Ghost Society. She was an avid reader and loved bowling. She was a member of many bowling teams over the years especially with the seniors. She loved traveling and going to the Casino to try out her luck. She greatly enjoyed doing her own home repairs from lowered ceilings to paneling rooms. She was a master of all trades to the point that everything had to be just perfect. In her younger days, she worked for Boott Cotton Mills and later Symphonics before her retirement from Honeywell.

She leaves her children, Gloria Parker of Lowell and David Freitas and his wife Zita of Tewksbury, as well as, her two grandchildren, Nicole Johnson and her husband Derek, Kurt Freitas and her two great grandchildren, Brooklyn and Avery Johnson. She also leaves her Godchildren, Rosemarie Bedard and Diane Wisenburg as well as several beloved nieces and nephews.
She was the sister of the late Joseph Gouveia and Anthony Gouveia.
DUE TO REGULATIONS REGARDING THE COVID-19 PANDEMIC, HER FUNERAL SERVICES, INCLUDING BURIAL IN ST. PATRICK'S CEMETERY WILL TAKE PLACE PRIVATELY. IN LIEU OF FLOWERS, CONTRIBUTIONS MAY BE MADE IN HER MEMORY TO SAINT ANTHONY'S CHURCH, 893 CENTRAL STREET, LOWELL, MA 01852. ARRANGEMENTS BY THE MCDONOUGH FUNERAL HOME, 14 HIGHLAND STREET, LOWELL, MA 01852, 978-458-6816.