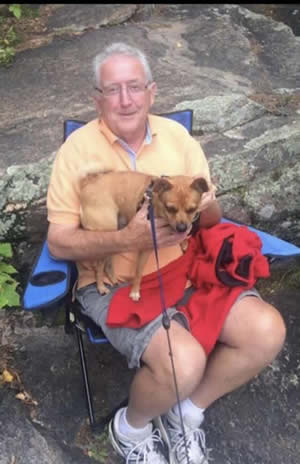 Dennis M. Moulton

DRACUT    Dennis M. Moutlon, 72, of Dracut, passed away unexpectedly on Thursday, May 2, 2019. He was the widower of the late Kathleen E. (Laybold) Moulton with whom he shared 47 years of marriage before she passed away in 2016. 

     He was born in Lowell on December 6, 1946 and was a son of the late George F. Moulton and the late Anna R. (Cregg) Moulton.  He was raised in Lowell where he attended the local schools before completing training in printing school prior to working as a Composer at the Lowell Sun for 30 years before his retirement. Previously he was employed at County Supply and A&P Medical Supply.

    Dennis loved to drive and enjoyed taking road trips, especially with his wife to Foxwoods. He and his wife were inseparable. He adored time spent with his family, especially his grandchildren. He also enjoyed walking his dog, Duke. Dennis will be remembered for his sense of humor.

    Dennis is survived by his two children, David Moulton of Dracut, and Kathleen Parrington and her husband, Jeffrey of Dracut; and his four grandchildren, Mitchell Moulton, Tawny Robertson, Ashley Parrington, and Rylee Parrington, and his daughter in law Barbara Moulton.

    He is also survived by his mother in law, Helen (Burns) Laybold of Nashua, NH and a close family friend, Maurice Cohen of Andover; his sisters in law, Amy McDonnell and her husband, Rick of North Carolina, Annette Moulton of Nashua, NH, and Lotte Moulton of Lowell; his brother in law, Bill Laybold of Dracut; and his deceased brother Charles' longtime companion, Joan Linnehan; and many nieces, nephews and friends.

    Dennis was predeceased by his siblings, the late George Moulton, the late Donald Moulton, and the late Charles and his wife the late Barbara Moulton; and his father in law, the late William Laybold.

    ON MONDAY, MAY 13, YOU ARE INVITED TO HIS MEMORIAL VISITATION FROM 12 NOON - 2 P.M. AT THE MCDONOUGH FUNERAL HOME, 14 HIGHLAND STREET, LOWELL, 978-458-6816. HIS FUNERAL SERVICE WILL BE HELD IN THE FUNERAL HOME AT 2 P.M.. BURIAL WILL BE HELD PRIVATELY AT AT LATER DATE.