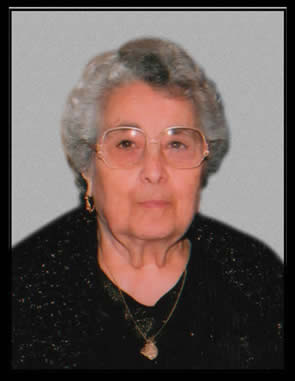 Delminda (Marshall) Silva

LINCOLN, CA - Delminda (Marshall) Silva, 87, of Lincoln, CA, formerly of Lowell, died after a brief illness July 19, 2009 at Sunrise Health Care Center in Roseville, CA. She was the widow of Francisco Silva, who passed away in 1982, after being married since February 2, 1948

Born February 2, 1922, in Lawrence, she was a daughter of the late John S., and the late Amelia Santos (Sodre) Marshall, attended the local schools. For many years she resided on Chapel Street, and was a communicant of Saint Anthony's Church. She enjoyed cooking, gardening, socializing, and traveling. Recently she moved to California to be closer to her daughter. She retired from Scriptures Cleaners in 1973 after working there for over 20 years.

She is survived by her two daughters Rosemary Machado and her husband Fernando of Lowell, and Mary Lou Resendes and her husband Carlos of Lincoln, CA, Four grandchildren; Michael Machado and his wife Jennifer of Chelmsford, Michelle Shay and her husband Matthew of Dracut, Daniel Resendes and his wife Delfina of Ft. Lauderdale, FL, and David Resendes of Ardmore, OK, and two great grandchildren Cameron Shay, and Anabela Resendes, a brother Oscar Marshall of Salem, NH, her brothers and sisters in law; Marjorie Marshall of Lowell, Teresa Silva of Lowell, Joseph Lima of Salem, NH, Mariquinas Silva, Saul Silva, Normanda Silva, Rosa Machado, Orlando Avila, Odilia Avila, Invaristo Silva, Libia Mendonca, and Bernardino Mendonca all of Canada and Isalino Silva of Graciosa, Azores. She is also survived by many nieces, nephews, cousins and friends.

She was the mother of the late Francisco Silva Jr., sister of the late Amelia Lima, the late John Marshall, sister in law of the late Madeline Marshall, the late Lourdes Gregorio, the late Lidio Gregorio, the late Jose Silva, the late Manuel Silva, the late Jose Machado and the late Judite Silva.

You are invited to her memorial visitation from 8 a.m. until 10 a.m. on Saturday AT the McDONOUGH FUNERAL HOME, 14 HIGHLAND STREET, LOWELL (978 OR 800) 458-6816. Following her visitation a procession will follow from the funeral home for Her Funeral Mass which will be offered at SAINT ANTHONY'S CHURCH at 11 a.m.. Burial in St. Joseph Cemetery. E-condolence site www.McDonoughFuneralHome.com