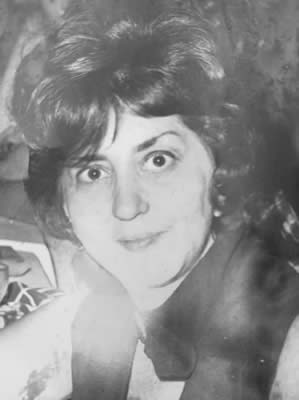 Della Cook

LOWELL Della Cook, a long time resident of Lowell, MA, passed away peacefully at her home on Tuesday, July 23, 2019 after a long battle with Dementia.

Born Demetra Vourloumis on May 26, 1926 in Fitchburg, MA., she was one of six children from the late Louis and Vaneta (Georgian) Vourloumis. Della attended Fitchburg Public schools graduating from Fitchburg High School prior to moving to Lowell to raise a family. In addition to Della's loving devotion to her family, she worked for many years as an accomplished cook for various organizations, including the esteemed Groton Prep School and the Battles Retirement home. She was also employed by the Merrimack Repertory Theater of Lowell as a costume designer.

Della enjoyed many hobbies, including dancing, being a self-taught pianist, playing cards, especially 45's, and had a passion for painting, taking many art classes at UMass Lowell. She was extremely proud of her Greek heritage and shared her cultural traditions with her family through cooking Greek food, attending festivals and celebrating religious holidays.
Della had an unforgettable personality and incredible sense of humor. She made her family her first priority and relished her role as "Yiayia" to her many grandchildren. Through her willingness to help those in need, she will be most remembered for her endless generosity and big heart.

Della leaves behind her husband of 50 years, Robert A. Cook of Lowell, and is also survived by five children, three daughters and two sons: Julie Hill of Lowell, Raymond Gendreau of Lowell, Steven Gendreau of Lowell, Lisa (Belle) Gendreau of Lowell and Roberta (Cook) Fillmore and husband Keith Fillmore of Tewksbury.

She was also predeceased by three loving children and five siblings: Vanessa (Hill) Gonzalez, Marie Hill, Peter Hill, Sam Vourloumis, Connie (Vourloumis) Couillard, Eva (Vourloumis) Hasalevris, George Vourloumis, and Julia Vourloumis.

Della also leaves behind numerous nieces and nephews and 11 grandchildren, 9 great-grandchildren and 2 great-great grandchildren, of which one shares her birthday; one special granddaughter she was extremely close to and helped raise, Carrie Nagle.
She enjoyed spending her later years with her 2 youngest grandchildren, Alexandra and William Fillmore.
A special thank you is warranted to her husband Robert Cook and her daughter Lisa (Belle) Gendreau, who were her devoted caretakers.
A private family service will be held with burial in the Westlawn Cemetery. In lieu of flowers, donations can be made to the Alzheimer's Association: https://www.alz.org/nj/donate. Arrangements by the MCDONOUGH FUNERAL HOME, 14 HIGHLAND STREET, LOWELL 978-458-6816.