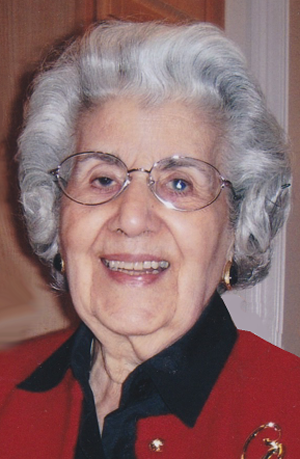 Delia 'Dee' Aguiar, 95
LOWELL, MASSACHUSETTS— After a long and remarkable life, Delia "Dee" (Barros) Aguiar, of Lowell, Massachusetts, passed away on October 20, 2015 at the age of 95.
Born on April 11, 1920 in Lowell, Massachusetts, she was the daughter of Maria (Gonsalves) Barros and Antonio Barros who bravely emigrated together from Madeira Island, Portugal in the early 1900s with the hope of beginning a new life in America.
As a young child, Dee attended local public schools, but then trained to become a professional hairdresser during her early teen years. For over 40 years, she was the proprietor of Dee's Debbie Shoppe, a popular beauty salon in the Hildreth Building in downtown Lowell. Dee was a savvy businesswoman who managed "the shoppe" with consummate skill, but her faithful customers knew her as a warm, dedicated, and compassionate friend. As a young woman, she married her high school sweetheart, Edward Espinola, who was killed shortly thereafter in the Battle of Iwo Jima during World War II. Following the War, she married Joseph Aguiar (a Purple Heart-decorated World War II veteran), her loving husband for almost 40 years before his death in 1988.
Throughout her life, Dee was, above all else, the matriarch of "Hanks Street," her home for over 65 years and the heart of her extended family. Without hesitation, she offered insightful wisdom, endless humor, and unwavering support at her famous—if not infamous—kitchen table, often placing the emotional and physical needs of her loved ones and friends before her own. For decades, she hosted large family Christmas parties because she believed wholeheartedly in the joy and love derived from family. Throughout generations, her gatherings proved to cement bonds that endure today.
She is survived by her three sons: David Aguiar of Lowell, Robert Aguiar of Lowell, and Mark Aguiar, Esq. of New York City; six grandchildren; Eric Wayne, Jennifer Aguiar, Samantha Dec, Melissa Aguiar, Lyn Aguiar, and Alec Aguiar; her four great-grandchildren; Ally Foster, James Dec, Mikayla Dec, and Jayden Dec; many nieces and nephews; and two sisters-in-law; Mary (Barros) Hudon and Laura (Aguiar) DeJesus. She was predeceased by all of her siblings: two sisters, Alice Silva and Mary da Silva; three brothers, Joseph, Leo, and Manuel (Barry) Barros; and "Aunt" Mary Freitas. She was also predeceased by her devoted niece, Anita Durkin, and nephew, Anthony da Silva, both of whom she loved dearly.
YOU ARE INVITED TO HER CALLING HOURS 4 UNTIL 8 P.M. ON FRIDAY, OCTOBER 23. ON SATURDAY, HER FUNERAL WILL BEGIN AT 9 A.M. AT THE MCDONOUGH FUNERAL HOME, 14 HIGHLAND STREET, LOWELL 978-458-6816. HER FUNERAL MASS WILL BE OFFERED AT ST. ANTHONY CHURCH, 893 CENTRAL ST., LOWELL AT 10 A.M.. BURIAL IN ST. PATRICK CEMETERY. MEMORIALS MAY BE OFFERED IN LIEU FLOWERS IN HER NAME TO BREAST CANCER RESEARCH FOUNDATION, 60 EAST 56TH ST., 8TH FLOOR, NEW YORK, NY 10022 OR ONLINE AT GIVE.BCRFCURE.ORG OR THE ALZHEIMER'S ASSOCIATION OF MASSACHUSETTS/NEW HAMPSHIRE, 480 PLEASANT STREET, WATERTOWN, MA 02472.