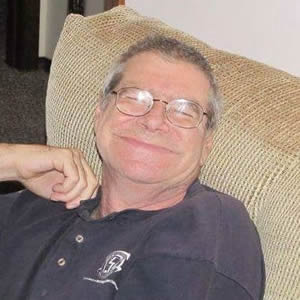 David N. Gibb
With great sadness David N. Gibb, 61, of Fitchburg, Ma, passed away peacefully surrounded by his loved ones Saturday, July 30, 2016 at Life Care Center of Leominster.
He was born in Lowell, on October 15, 1954 and was the son of the late Edwin, and the late Alberta (Dichard) Gibb. Mr. Gibb attended the Lowell Public Schools, and received his G.E.D.
Mr. Gibb served in the United States Army during the Vietnam War until his honorable discharge in 1972.

He resided in the Shaugnhnessy Terrace neighborhood along with many others during his time spent in Lowell. Mr. Gibb was a machinist at ElectroMetals, Lowell Metal Products and Sparton Technologies.

Dave was an avid sports fan; he loved all the New England teams. He enjoyed playing cards at the Senior Center with all his friends. Most of all Dave loved his family. His grandchildren were his most important things in life to him. Every Saturday you would find him alongside the boards cheering them on during their Street Hockey games.

David leaves behind three brothers, Lawrence, Michael and Ronald Gibb all of Lowell, three sons; Roger Miles, Harold Miles and his wife Heather of Fitchburg, Christopher Gibb and fiancé Cassandra of Lowell; two daughters, Helena Miles and her wife Amy of Fitchburg, and Tiffany Gibb of Lowell. He also leaves behind his seven close grandchildren Bryan, Tayah, Logan, Drake, Addy, Adanis and "Little" David among many others. He will be missed by his nephew Albert Gibb and Great nephew Travis of Gardner and two unofficial sons David Dean Sr. of Frostproof, FL and Eric Weeks of Corvallis, OR.

Please join David's family in celebrating his life on Saturday August 6, 2016 from 11a.m. to 2p.m. at The McDonough Funeral Home 14 Highland Street Lowell, Ma.
His funeral service will be held in the funeral home at 1p.m. following calling hours.
Memorial donations may be sent to the National Kidney Foundation (Finance Department) 30 East 33rd St. New York, NY 10016 in honor of David's daughter Tiffany, also the National Stroke Association 9707 E. Eastern Lane Centennial, CO 80112 in memory of David.