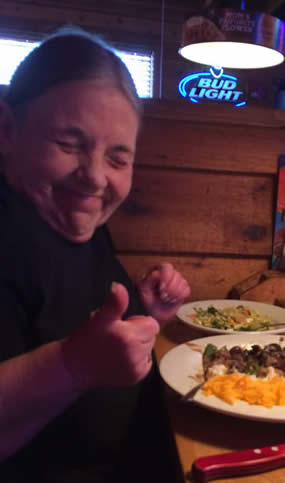 Darlene L. (Lavoie) Lapointe

DRACUT Darlene L. (Lavoie) Lapointe, 63 of Dracut, passed away at home on Sunday, September 27, 2020 with her loving, devoted family. She was the beloved widow of the late David R. Lapointe who passed away in 2002. 

She was born on February 19, 1957, and was raised in Lowell. She was the daughter of the late Edward and Irene (Richard) Lavoie. She attended Lowell High School and graduated in 1974. 

Growing up she enjoyed playing darts and joined the first and only all women's dart team in the Merrimack Valley. The team was called O.J's Rookies after the popular lounge in Dracut they called home. It was such an inspiring time that the story made the Lowell Sun including her interview. 

Throughout her life, she worked various jobs, but eventually found her passion in being a home health aid. Working with clients, helping them through the day, getting to know them and their families meant quite a bit to her. She built these relationships and treasured each one. In addition to being a home health aid, she also worked at Blaire House in Tewksbury. Her caregiving, love, and passion continued here working with residents. Helping her clients and residents was very important to her. Her goal was to make their day better, meaningful, enjoyable and put a smile on their face. Numerous times this involved going out to eat or finding something to snack on. 

Outside of work, she enjoyed various activities such as jigsaw puzzles, sudoku, reading, appreciating nature, playing games, eating, and spending time with family. There was not one holiday that went by without her being with immediate family, making a homemade dinner, and making sure, twice, that everyone ate enough. 

She was a very caring person but most importantly, a caring mother. She made sure that her children were taken care of, happy, and knew they were loved. She was always there to listen, empathize, and support. However, she was very opinionated at times and never shy to tell you how she really felt or to joke around with you.  

She is survived by her son Jacob Lapointe, and daughter Kimberly (Lapointe) Shepherd and son-in-law Steven Shepherd. She is also survived by her sister Pamela (Lavoie) Clegg, and brother Richard Lavoie. 

She is also survived by her godson and nephew Steven Lavoie, and her niece Cassandra Peters. She also leaves behind friends, clients, and residents who made a positive impact on her life. 


Her funeral and burial will be held privately on Friday, October 2, 2020. If interested in sending flowers, please make arrangements through The McDonough Funeral Home latest by Friday, October 2, at 8:00AM.